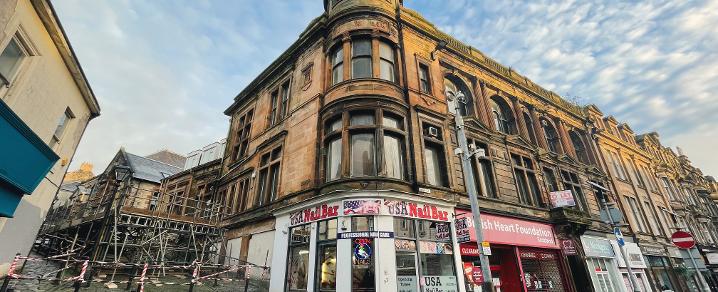 Work starts to bring Paisley Liberal Club back into use
A landmark historic building on Paisley High Street is being restored and brought back into use - thanks to a council programme designed to preserve the town centre's unique historic architecture.
The Liberal Club, sitting in a prominent spot at 32 High Street, has been a feature of life in the town since 1886 but has been vacant since 2016 and has fallen into disrepair.
Now, the council and the building's owners are working together to restore the outside and inside of the C-listed building to its former glory, with a new use to be found for the once-grandiose entertainment venue.
The work is being assisted through the Townscape Heritage/Conservation Area Regeneration Scheme 2 (TH.CARS2), a £4.1m programme funded by the council, National Lottery Heritage Fund and Historic Environment Scotland, with additional funding from the Scottish Government's Place-based Investment Programme.
What work is happening
TH.CARS2 is funding a full repair of the outside of the building's upper floors, while the building's owners are funding repairs to the inside of the building. While they have planning permission to turn the upper floors into flats, other uses are being explored.
Grant-supported works include roof work, stonework, window repairs and new downpipes, with the external work expected to be complete by August.
Work is also now getting under way to transform the frontage of two vacant shop units at 18 High Street, through a TH.CARS2 shopfront grant, with owners picking up the rest of the cost.
What the owners are saying
The building is owned by Jazz Chowdhary and Dr Jasmeet Singh of SC Investments Scotland Ltd.
Jazz said: "We are both extremely excited to restore this landmark listed building on Paisley's High Street to its former glory and we look forward to bringing it back into use for the local community.
"Since we acquired the building, we've heard many positive stories from locals who used to visit the Liberal Club. We've become quite attached to the building and made it our goal to bring it back to life.
"We are incredibly thankful for the help of the TH.CARS2 team at Renfrewshire Council, Graham Stuart of Wellwood Leslie Architects, and the various funding bodies, who have all played a key part in helping us move towards our end goal.
"We are in discussions with potential future occupants of the building, but at this time we are not at liberty to advise on the use. What I can say for certain is that in 2023, the Liberal Club will create more happy memories for the people of Paisley."
What else TH.CARS2 has done
Since 2016, the TH.CARS programme has completed numerous projects to help restore historic buildings and outdoor spaces within Paisley town centre. That has included:
Grant support for extensive building repair projects at 5 George Place. 20 New Street (Vienna's nightclub), the upper floors of 2-3 County Place, 41 High St (Right-way credit union), 9 Gilmour Street, 10 Shuttle Street, and the Sma' Shot Cottages
Six projects to help owners restore historic shopfronts completed, with two more currently on site - in the vacant unit at 18 High Street and at 63a (Nomads café) - with a final two due to start this year, including one at 67 High Street (Houston's Kiltmakers)
Work to upgrade historic streetscapes, with improvements completed at George Place, and works currently on site at Weighhouse Close and on the stretch of the High Street opposite the museum
An extensive programme of heritage education, training and events aimed at bringing the town's heritage to life, covering 42 community projects, with more than 2,600 people actively engaged in more than 630 workshops
Article added: Monday 6 February 2023