Business grant supports Paisley creative hub
A new creative hub in Paisley welcoming shoppers, supporting local businesses and saving furniture from landfill
Restoration & Creation on Paisley's Browns Lane makes, sells and exhibits handmade, customised items
Owner Caroline Sweeney is a former IKEA manager now upcycling unloved furniture and hosting creative workshops
Her venture is backed by a Renfrewshire Council Creative Business Hub grant enabling five local start-ups to move in
Restoration & Creation on the town's Browns Lane is the brainchild of former globetrotting IKEA manager Caroline Sweeney.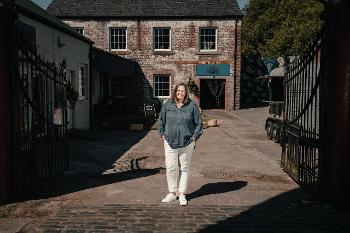 Caroline - a home interiors specialist - spent 20 years living and working abroad for the home furnishing giants before deciding to start her own business last year.
She has been backed by a Creative Business Hub grant from Renfrewshire Council enabling her to welcome likeminded local creatives to join her at the hub.
"I believe we are born to create so the idea behind the hub was for people to bring something in, upcycle it and take it away," explains Caroline, from Bridge of Weir.
"We've so much stuff in landfill it's ridiculous, stuff that with a little bit of effort you can transform.
"Customers at IKEA were looking for more sustainable furniture and for something custom-made, something they couldn't get anywhere else."
Caroline has transformed the 17th century stables into a hive of creative activity complete with exhibition, retail and making space as well as room to run a range of workshops.
Business grant support
Council funding has subsidised the costs to Caroline as the hub develops and let her pass on reduced rates to other creatives sub-letting space.
This has seen five local creative business owners move in, making and selling customised handmade products including upcycled, repurposed and restored furniture, painted porcelain, stained glass and sculpture.
Caroline added: "I wanted to develop a creative hub in Paisley because there's so much creativity here and Browns Lane is the perfect place for a hub, just like the Hidden Lane in Finnieston or Ashton Lane in Partick.
"If it wasn't for the Council business grant, I would have moved elsewhere, as the building is too big for me to keep on my own.
"It's lovely to have company and share the journey with other creatives. It's such a huge risk to rent a shop, the overheads have a massive effect and creatives couldn't afford to take that on, so the hub enables them to come into a safe space, pay a small amount to test it and hopefully launches their business."
Councillor Andy Steel, Convener of Renfrewshire's Economy and Regeneration Policy Board, said: "There's so much creative talent right across Renfrewshire and we know there's a strong demand for space for creatives to come together and collaborate, which in turn attracts visitors to the area to spend local.
"We established the Creative Business hub grant to provide the funding which helps this to happen and that's seen several hubs form, enabling creative companies to establish themselves.
"Restoration & Creation is the latest example of this and it's great to see them passing on their creative skills to others through the workshops and their focus on upcycling, which supports our wider ambition for a net zero Renfrewshire.
Find out more about the range of business support available.
Meet the makers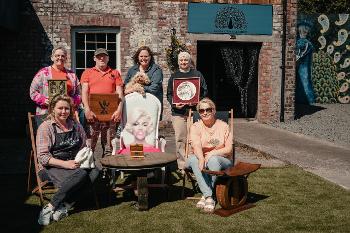 Caroline's furniture upcycling business is one of six creative companies being established at Restoration & Creation.
There's Unique Teak, with David and Audrey Atkinson restoring mid-century furniture. Audrey, who lives in Linwood, worked in retail management for years including 15 with M&Co.
Audrey said: "Restoring mid-century furniture that's been mistreated has been a hobby, and now a new adventure as a business. "I've learned a lot, through my own mistakes, so now it's time to take it further, with the ultimate goal to design and make our own bespoke furniture.
Amanda Scott creates vibrant stained glass panels under the name North of Eden. She loves the relationship that light brings to the colours in the glass and brings elements of nature in to all of her pieces.

"I also really enjoy wet felting textiles like scarves and cushion covers," says Amanda, who has moved from running her workshop and gallery on the Isle of Bute to Restoration & Creation.

She adds: "I love the processes involved in creativity and am excited at the opportunity to start again here and am looking forward to spending time with like-minded people."
Gary and Sandra Nesbitt, aka BlackCat Upcyclers, love to upcycle furniture and also make custom made pieces for indoors and outdoors.
"Gary is the maker; I'm the artist," explains Sandra, who combines this role with working for Renfrewshire Health and Social Care Partnership supporting young adults with autism and complex learning disabilities.
Sandra met her husband Gary 11 years ago after he'd changed careers from joinery into healthcare.
Gary adds: "We love upcycling, and we feel it's so important to show people what can be done with unwanted furniture or items heading for landfill. Moving to the hub gives us the opportunity for people to come in and see what we do and how we do it."
Former hotel revenue manager Emma Lewis has moved out of her garden shed and into the hub to give Gryffe Casting studio a greater presence.
Emma says: "I'm focusing myself as a family casting specialist, it could be hands, baby bumps, there's so many variations and ways to capture special moments in life.
"The camaraderie between us all at the hub is fantastic, we're all aiming for the same goals and all supporting each other, sharing each other's social pages, learning from each other, encouraging each other."
And porcelain painter Kinda Zackry is delivering workshops and making customised products from the Paisley hub.
She says: "Moving into the hub I was scared as it's my first time running my own business and being responsible for everything, but I feel ready to take that step.
"I want to grow, for everyone to know my name, to come here and to ask for a painting and I want to share my skills as nowadays there are fewer porcelain painters in the world, so I'd like to help to keep it alive."
Published 27 June 2023