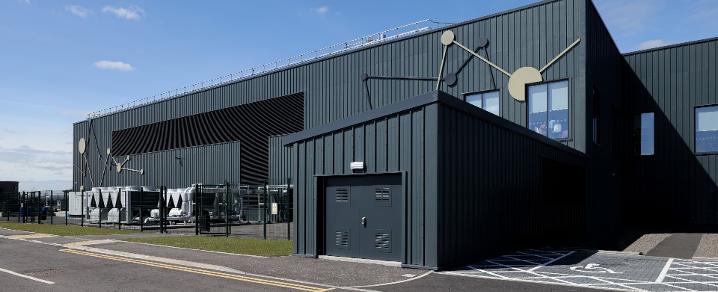 Medicines Manufacturing Innovation Centre opens at AMIDS
A major centre accelerating state-of-the-art solutions in medicines development and manufacturing is now open in Renfrewshire.
The Medicines Manufacturing Innovation Centre brings world-leading science and technology expertise under one roof at Scotland's home of manufacturing innovation AMIDS.
It is delivering 100 initial high-value jobs and will enhance international investment into Scottish life sciences and manufacturing innovation.
Forecast to generate £200million in technology innovation in its first five years, the centre is a unique collaboration led by UK technology innovation organisation CPI and supported with £88million in public and private investment.
New advanced technology and manufacturing solutions developed between CPI and pharmaceutical companies based at the Centre will help the industry become more productive and sustainable, benefitting people across the globe through the development of new and improved medicines.
Dave Tudor, Director of Medicines Manufacturing, Biologics and Quality at CPI, said: "The facility we have built here in Renfrewshire is the first example of a consistent and concerted effort from the pharma industry to collaborate. This will be crucial to unlocking the challenges we've faced so far to translate research into tangible benefits that will help address unmet health needs.
"Our 'Grand Challenge' business model aims to bring key players together to accelerate solutions to key challenges including how we reduce waste and lower the industry's carbon footprint through better, more efficient manufacturing processes."
Renfrewshire Council Leader Iain Nicolson welcomed the new facility officially opening its doors.
He said: "I'm delighted to see the Medicines Manufacturing Innovation Centre open in Renfrewshire, bringing high-value jobs and an estimated £200 million in advanced technology investment. It's exciting to know new innovations and approaches in medicines manufacturing will be made in Renfrewshire at this one-of-a-kind Centre, potentially delivering global benefits.
"It marks a key step forward in our development of AMIDS, which has already attracted £185 million into Renfrewshire and continues to provide a major boost to the local, regional and Scottish economy."
The Medicines Centre is the first facility to open at Netherton, the 52-hectare council-owned site next to Glasgow Airport at the heart of the manufacturing innovation district which also spans Westway and Inchinnan Business Parks.
Every aspect of AMIDS is focused on a net zero future and the developed district is securing Renfrewshire's position as the primary place for manufacturing research and development in Scotland, bolstering an already hugely productive manufacturing sector accounting for 8,000 roles, 10% of total jobs.
Read the full centre launch story on the CPI website.
Published on 30 November 2022