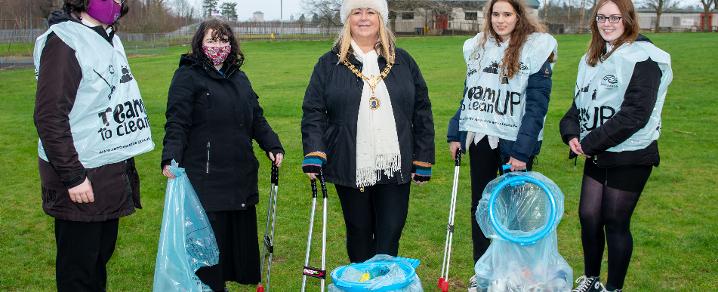 School kids team up to clean up for leadership award
Pupils from Gleniffer High, Paisley Grammar and St Andrews Academy have teamed up to tackle litter in their community as part of the Mark Scott Leadership for Life award.
What is the award?
It's run by the Outward Bound Trust and provides an innovative programme which trains young people in skills which they can use in business or other organisations.
Participants are trained in various skills including team building, project management and leadership, before separating into project teams and identifying a community project to lead.
How do our pupils plan to achieve it?
For five S6 pupils, Bethany Adam, Keziah Bryan, Charlie Cowan, Sarah Fulton and Caitlyn Johnstone, they've set their sights on joining the hugely popular Team Up to Clean Up campaign which sees the Council and community working together to tackle environmental issues in Renfrewshire.
They want to set an example for their school and make a real difference to their community by hosting local litter picks and encouraging their fellow pupils to change their behaviours if they currently drop litter.
Bethany said: "I feel it is important to work on improving not only our community, but the school's relationships with the outer community which will in turn improve its reputation.
"I chose to participate in the Mark Scott award as I wanted to take a more proactive role in the organisation of events which would in turn build my confidence in dealing with similar circumstances in the future."
Bethany and Keziah invited their school community at Gleniffer High and local residents to take part in a litter pick at Durrockstock Dam, while the others are set to do the same in the near future at Paisley Grammar and St Andrew's Academy.
Keziah said "This is a place well-used by the community so I want to clean up this area not only to make it look nicer for the community, but also to help preserve the natural environment.
"I want to complete the Mark Scott award to give back to my local community in my last year of school, as well as learning skills that will help in the future with university and future employment."
What is Team Up to Clean Up?
The award-winning campaign has invested £2.5million to improve the local environment in Renfrewshire and sees the Council increase its litter picking, street cleaning and gully clearing, while supporting the local community with litter picking equipment, collecting the rubbish from litter picks and other equipment required to improve the local environment.
Councillor Cathy McEwan, Convener of Renfrewshire Council's Infrastructure, Land and Environment Policy Board, said: "I'm delighted to see these young people become part of the campaign and lead from the front in making their communities cleaner.
"We know that the next generation need to take littering and our wider environment seriously so its heartening to see these pupils setting an example for the others in their schools and hopefully this helps the behaviour change we are striving for.
"The campaign has been so successful but we're not content with what has been achieved so far. We want to keep doing more and I'm delighted to be working closely with our schools and their pupils."
To find out more information about the environmental campaign, visit Team Up to Clean Up or for more about the Leadership for Life award, visit mslfla.org
Published 2 February 2022.