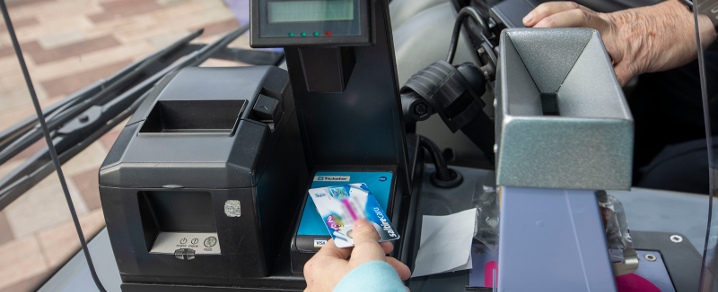 Free bus travel scheme launches for young people aged 5-21
Young people in Renfrewshire can now travel for free on buses throughout Scotland after the Scottish Government campaign launched today (Monday 31 January).
Nearly a million 5-21-year-olds are now eligible for the scheme which aims to embed sustainability in young people's travelling habits and contribute to a reduction in carbon emissions - with Scotland aiming to become net-zero by 2045.
How do you get your free travel?
To access the scheme, young people need to apply for a new entitlement card, with 5 to 10-year-olds using a junior card which does not require a photograph and those aged 11 and over using an updated Young Scot card - which is also a photo identity and proof of age card.
Young people should apply for their new card at Getyournec.scot or ParentsPortal.Scot.
Don't have internet access?
We are also working with primary schools to support young people to apply for their junior card through our ParentPay system and the delivery of Young Scot cards to primary 7s this year will include a consent process to allow access to the free travel scheme too.
Local libraries are available to support those aged 11 to 21 with limited internet access and this route also allows additional proofs of identity to be used which are not accepted via the online Scottish Government portal, such as providing which school they attend and a manual check taking place.
We are also in contact with local community groups, charities and organisations that support vulnerable young people to ensure that young people using their services are able to access the scheme.
Why is this a good thing?
Councillor Marie McGurk, Convener of Renfrewshire Council's Communities, Housing and Planning Policy Board, said: "This is a fantastic way to encourage young people to use the bus more frequently and reduce the number of car journeys that they might take on a regular basis.
"It will make using public transport the norm as they grow up and will play a big part in our drive to reduce emissions and make travel more sustainable now and in the future.
"I would encourage all eligible young people to sign up for their new, free card as soon as they can and get in touch with us if there are any issues.
"Our teams will be working hard to ensure all young people, regardless of circumstance, have the ability to access this scheme and my thanks go to them for their work to ensure inclusivity."
For more information, visit the Council's website at National Entitlement Card.
Published 31 January 2022.