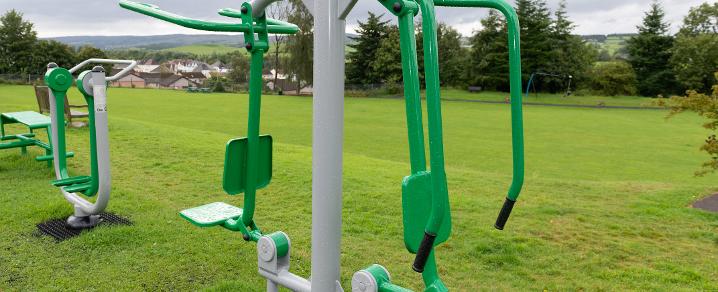 New gym set for Argryffe Park in Houston
Villagers in Houston will soon be able to get active outside as a new fully inclusive, interactive outdoor gym is added to Argryffe Park.
The new gym equipment will cater for young and old, including people of all abilities, and users will even be able to connect to an app which will monitor performance and encourage continued use.
The project is being delivered after Houston Community Council were granted £35,000 following their application to our Green Spaces, Parks and Play Areas and Villages Investment Fund.
Having already raised £7,000, this funding will allow a supplier to be appointed and work to start on the gym ahead of the summer months.
Councillor Marie McGurk, Convener of Renfrewshire Council's Communities, Housing and Planning Policy Board, said: "I'm delighted that we've been able to support yet another project that people have told us their community needs.
"This fund was created to deliver real change for local people and ensure that they could take forward ideas which they know will make a difference to where they live.
"More than £2million will be committed from the fund and it has seen projects completed across Renfrewshire and created lasting relationships between the Council and the community.
"I look forward to seeing the new gym in Argryffe Park when it's installed and I'm sure it will be a huge boost for parkgoers in Houston."
Since its inception in 2018, 66 projects have been completed in Renfrewshire in almost every community, ranging from new play parks and community gardens to outdoor gyms and new nature trails.
The fund has encouraged the formation of new constituted community groups, created new play areas for young people and families, and made clear environmental improvements to local green spaces across Renfrewshire.
The fund is now fully subscribed so cannot accept new applications for funding.
For more information, visit Green Spaces, Parks and Play Areas and Villages Investment Fund.
Published 20 January 2022.