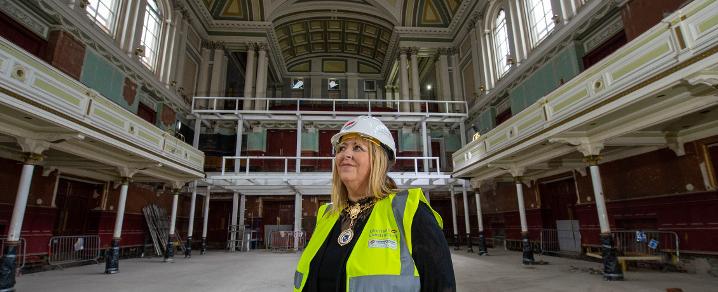 New Paisley Town Hall room names to honour John Byrne and textile heritage
One of Paisley's most famous sons - artist and playwright John Byrne - will be honoured in the new room names for his birthplace's soon-to-be-transformed town hall.
When the A-listed Victorian building reopens next year after a £22m refurbishment, new and existing rooms will carry names inspired by John's play Cuttin' a Rug, set in the town hall.
The news comes in the same week John's latest play - Underwood Lane, inspired by his time growing up in Paisley with childhood friend Gerry Rafferty - receives its world premiere in Renfrewshire.
Paisley Town Hall is currently being turned into a landmark entertainment venue, with new facilities and rooms added - such as a new bar overlooking the river, a digital lounge with big screen, and a dance studio in formerly-unused space on the upper floor.
What are the new names?
The new names were chosen after a process led by Renfrewshire's Provost Lorraine Cameron, who wanted the modernised building to reflect the town's heritage in a fresh way, and picked after engagement with local community groups and other elected members
The bar will be Lucille's Lounge, The Loggia will be known as the Loom Loggia, the digital lounge will be called Cutting Room and the dance studio will be Spinning Shed.
The other meeting and conference rooms will be known as Skinnedar Suite, McCann Room, Stobo Room and Jacquard Suite. The main hall will continue to be known as the main hall.
Lucille, Skinnedar, McCann and Stobo are all names of characters from Cuttin' a Rug - set during a works night out in the town hall and part of John Byrne's acclaimed Slab Boys trilogy, based on his own experiences of working in Stoddard's carpet factory in Elderslie as a young man.
Loom, Cutting, Spinning and Jacquard are all equipment or techniques which reflect Paisley's rich weaving history.
What's been said about it?
Provost Cameron - who earlier this year awarded the Freedom of Renfrewshire to John - said: "Paisley Town Hall is a special place for all Buddies, and each of us will have our own links to and memories of it.
"The work happening now will keep this beautiful building at heart of local life and preserve its much-loved architectural features, but with new facilities allowing it to host bigger and better events and more uses, bringing new life and footfall into the town, day and night.
"I want to thank everyone who helped contribute to the process of renaming the rooms, as there were loads of great ideas, but we were able to boil it down to two.
"Paisley has always been home to great cultural innovators - and John Byrne is one of the best. It's fitting that in the year he is awarded the Freedom of Renfrewshire that we can ensure one of his best-loved works, Cuttin' a Rug, is permanently marked in the building in which it is set.
"At the same time, the Paisley Pattern and the weaving and thread-making industries took Paisley's name around the world, and the prosperity that flowed from there helped fund the town hall and other local landmarks, so it's only appropriate we reflect that in the new room names.
"These names will keep the town's heritage alive as they form the backdrop for future generations of Buddies to make their own special memories of the town hall in the decades to come."
What else is happening?
The town hall work is being taken forward by Renfrewshire Council as part of a wider investment in the town's cultural venues, including the transformation of Paisley Museum into a world-class venue, and the work to build a new home for library services in a once-empty High Street unit.
When it reopens in 2023, the town hall will be operated by OneRen and will be bookable for a range of large and small events. For more info, call 0300 300 1210 or email OneRen_eventhires@renfrewshire.gov.uk
Underwood Lane is a co-production between the Tron Theatre Company and OneRen, supported by Future Paisley - the wide-ranging programme of activity led by Renfrewshire Council which aims to use Paisley's rich cultural story to transform its future. It will run at Johnstone Town Hall from 7 to 9 July and at the Tron Theatre in Glasgow from 14 to 30 July.
The play was originally due to be performed in 2020, but was delayed due to the Covid pandemic. It follows a skiffle band as they try to make it to the big time and is named after the street in which Gerry Rafferty grew up. Tickets are fully sold out.
News story added: Tuesday 5 July 2022