Council projects nominated for National Youth Work Awards
Congratulations to our colleagues in Community Learning and Development, who have been nominated for two awards at the Youthlink National Youth Work Awards.
Our first nomination in the Recognising Skills and Achievement category, sponsored by Skills Development Scotland, is for our Evolve Programme. Our second nomination, in the Participation & Youth Voice category is for our Celebrating Renfrewshire Fund.
Good luck to both our entries. The winners will be announced at the National Youth Work Awards Dinner at the Double Tree Glasgow, on Wednesday 21 June, and we'll let you know how they get on.
In the meantime, here's some background about both award nominated projects.
Evolve
The EVOLVE Programme is a personal and social development programme for young people, designed and delivered by Youth Services, with the aim of improving their confidence and wellbeing, as well as their engagement in learning.
Delivered by our colleagues in youth services, the programme addresses health and wellbeing and has a social action element where young people identify issues, that they then prioritise, that will improve their lives and their local communities.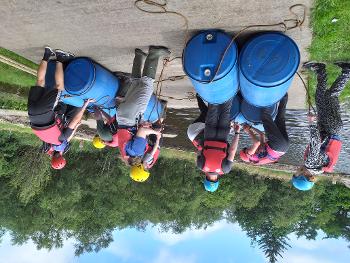 The programme was originally funded as a three-year pilot through CashBack for Communities 2020-23. In that time, thirteen groups, and over 150 young people have taken part, including young people from West, Glencoats and Wallace primary schools, as well as groups from Paisley Grammar and Castlehead High. This has also included care experienced and vulnerable young people, a group of Ukrainian pupils, young refugee settlers, as well as referrals from social work's Throughcare services.
Activities are varied and have included: cooking, growing food and shopping on a budget, as well as art, beauty, team building and gym membership and keeping fit. In their local communities, young people have organised litter picking, and group activities with older people at Erskine Veterans Village as well as making gifts for young people in supported accommodation.
The feedback from partners, young people and their families has been great, and shown that the learning experiences have helped to build confidence, individual capacity and to encourage young people to raise their personal confidence and aspirations.
The results speak for themselves and include increased attendance at school and the ability to moderate and manage feelings and behaviours, meaning they can continue their learning journey or explore other opportunities in the community.
A large number of the young people enrolled in Evolve have also gone on to gain additional accreditation, with over 100 Hi5s awarded for wider achievement and climate action, a Saltire Award for Volunteering, Dynamic Youth Award, Food, Hygiene and Safety, and Duke of Edinburgh Awards, to name but a few. The programme has also seen the value of connecting young people to their peers, and communities, involving them in deciding their projects which would benefit others.
Although CashBack for Communities funding has come to an end the programme continues to go from strength to strength, with some groups now being funded through Renfrewshire's Pupil Equity Fund. The schools identify young people who are less engaged and who would benefit from the programme to overcome some barriers to learning and they attend their local youth venue to take part in the programme.
Celebrating Renfrewshire
The £150,000 Celebrating Renfrewshire Fund aims to make the area a better place for young people to live, giving young adults and teenagers a voice in their community and a chance to shape how life in Renfrewshire will be for them in the future.
The fund is managed by a steering group of young people from across Renfrewshire and managed by our community planning and community learning and development teams.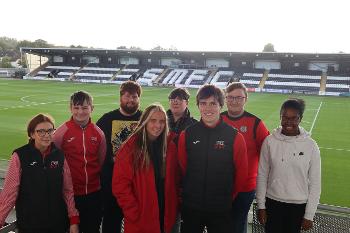 This year, anyone aged 12 to 25 can apply to one or several of the seven Local Partnership areas for up to £3,500. Community groups and organisations that work with young people can apply if young people that they work with, or support, approve the project. School parent councils can apply if they can show that the project will benefit the whole community and has the endorsement of their pupil council.
All ideas submitted must encourage equality and opportunity, and should contribute to one or more of the following priorities:
Mental and physical wellbeing
Cost of living
Employability and life skills
Climate Change
Drugs and Alcohol Prevention
Violence-Diversionary projects for young people
Young people aged 12 to 25 who live in Renfrewshire can then vote on what projects they want to see delivered in their Local Partnership area. Voting will take place on the Young Scot website using their online voting platform.
Last year, more than 35 successful projects were awarded funding, including those that provided industry standard filming and editing equipment to young people and the creation of a social hub for a youth homeless unit.
For more info and guidance on how to complete an application and vote visit www.renfrewshire.gov.uk/celebratingrenfrewshire
About the awards
The National Youth Work Awards celebrates youth work and the youth workers who make a difference every year in the lives of young people. They are aimed at individual youth workers, managers, projects, or groups for work that is delivered in youth work settings or in other settings, using a youth work approach. The awards are a mixture of universal, targeted and specialist youth work provision.
Published on Friday 16 June 2023.