Celebrating Renfrewshire Fund
The Celebrating Renfrewshire Fund - by young people, for young people - gives you, as a young person, a voice in your community and lets you decide how to make living as a young person in Renfrewshire better.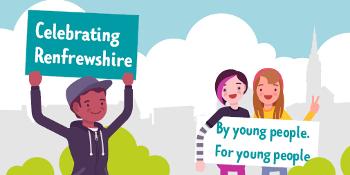 Through youth participatory budgeting, young people from Renfrewshire Youth Voice have come together to set out what the £150,000 fund should be spent on and how it will benefit their fellow young people in Renfrewshire.
All you need to do is come up with an idea, fill out an application and your peers will vote on what they believe will make the biggest difference to their area.
What are the rules for applications?
Priorities of the fund
Make your application
Voting process
Support sessions
Age - Anyone aged 12-25 can apply
Maximum grant award - £2,000
Applications can be sent to a maximum of 3 Local Partnerships
Individual young people can apply but would need a constituted group to act as their guarantor.
Schools in partnership with their Parent Councils can apply - if projects benefit the wider local partnership area and not just the school itself.
Constituted groups and organisations that provide services to young people aged between 12-25 in Renfrewshire can apply.
Applications must match one of the priorities set out by our young people below.
Youth Involvement & Participation
Removes barriers for young people to participate.
Sport & Physical Activity
Sport is more accessible and appealing.
Promoting positive mental health & wellbeing
Removes stigma and is positive about mental health and wellbeing
Involves young people and their families when dealing with poor mental health
Encourage open discussions regarding young people's mental health
Employability & Youth Development
Develops life skills for employment, budgeting and leading an independent life
Builds confidence, communication and social skills within young people
New projects in response to Covid-19
Helps young people recover from the impact of the pandemic
Please read the guidance document first -

Celebrating Renfrewshire guidance 2020 [491KB] .
You can apply online here via Celebrating Renfrewshire (please use Google Chrome if possible).
You are encouraged to create a short video outlining your application so people can see and hear from you, so please consider this when you start to apply.
Videos will need to be uploaded to your YouTube channel, if you have one, and the link to your film can be sent here - Celebrating Renfrewshire.
If you do not have a You Tube channel we can provide you with information on how to set one up. You can contact us via Community Planning
Alternatively, please print off the

Celebrating Renfrewshire application 2020 [237KB] and send it to: Youth Services, West Primary School, Newton Street, Paisley, PA1 2RL.
Closing date for applications - 20 September 2020 (deadline extended)
Voting - 5 October 2020 to 23 October 2020
Voting will take place via the Young Scot website and you will be able to vote for your favourite projects in your area.
Please follow this section of the website and also our social media channels - Facebook and Twitter - for the latest updates and information.
You can also visit Young Scot to find out more.
Due to the COVID-19 pandemic, we cannot support you through personal meetings at this time.
However, you can access online support here - Celebrating Renfrewshire - support sessions.