Learning about the Invest in Renfrewshire Traineeship programme
Key points from the recent RenTalk about identifying opportunities and the benefits of supporting traineeships.
Last week, around 55 managers joined assistant manager, Michael Moran, for a RenTalk about the benefits of creating traineeship opportunities in their teams through Invest in Renfrewshire.
Michael and his colleagues in our economic development team work alongside Invest in Renfrewshire and support council managers to identify and create traineeship opportunities in their teams.
Michael said: "The RenTalk session went really well with managers asking some great questions which gave me the opportunity to explain more about how the programme works and reassure them about the recruitment procedure, costs, success rates, and the variation and flexibility of opportunities."
Having taken on several trainees in previous years, community development manager, Carolanne Robertson, also spoke at the session and shared her experience.
She commented:
"I can't stress enough how beneficial the programme has been for me over the years. Not only have the trainees themselves brought value through their hard work and eagerness to learn, but they have also breathed new life into the team and given more experienced colleagues the opportunity to build on their mentoring and training skills.
"I would also add that Michael and his colleagues Tracey and Elizabeth, are very supportive and do their best to make the process as straightforward and accommodating as possible. It really is a great way to grow your team without many of the costs normally involved in recruitment."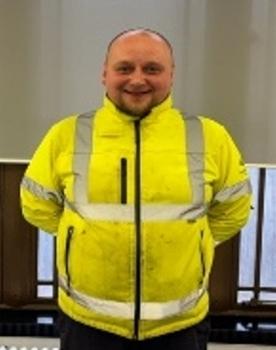 The effectiveness of the programme has led to many trainees progressing into sustainable long-term roles, often within the Council, like Shamek who now works for our Roads team.
During the RenTalk session, managers heard about Shamek's journey where he went from struggling to find work after the pandemic, to becoming a trainee and working his way into a full-time role. He said:
"Through my traineeship I got all the support I needed to gain employment, a new lease of life and a chance to progress in the Council."
If you think your team could benefit from supporting this year's traineeship programme, here are some quick facts to help you understand more:
Traineeships are offered on a fixed term basis of up to 26 weeks.
Roles are normally between 16-25 hours per week and salary costs, up to 25 hours, are covered by Invest in Renfrewshire.
Traineeships can be more than 25 hours per week if needed, and services are responsible for the additional salary costs, as well as any other associated costs like ICT or Personal Protective Equipment.
Traineeships cannot replace existing or planned vacancies or cause a reduction in hours for existing employees or contractors.
Roles are mainly entry level and trainees should not have to undertake extensive training before they begin.
To get the full 26 weeks funding, the traineeship should be in place by the end of September.
Michael and his colleagues are always keen to discuss potential opportunities and can help you decide if creating a traineeship in your team is the right route for you.
Get in touch with Tracey Russell at tracey.russell@renfrewshire.gov.uk or Elizabeth MacKay at elizabeth.mckay@renfrewshire.gov.uk to find out more and arrange a friendly discussion.
Published on Thursday 14 September 2023