First look at new Paisley Grammar School
The first images showing how the new Paisley Grammar School Community Campus will look have been revealed.
The new school is due to be open in summer 2026 and will boast a state-of-the-art set-up for pupils and the wider community, to replace the existing Paisley Grammar School.
It will be built on vacant land besides the former Chivas administration building on Renfrew Road, with construction expected to get under way in spring 2024.
The project has been led by a core team with members from children's services, property services and project management, with input from a variety of services from across the council.
A planning application for the new building has now been submitted, including images and plans, which show how it has been designed to:
Offer outdoor facilities not possible on the current Paisley Grammar site, including 3G all-weather and grass sports pitches, games court, and outdoor learning and social spaces
Include a 300-seat theatre, plus modern facilities for practical subjects including fitness suite, dance studio, makers space, teaching kitchens, drama studio and music suites
Have separate pupil and public areas, with community facilities such as meeting rooms, flexible learning spaces, and a base for local radio station Quality Radio (formerly Paisley FM)
Support a range of ways to learn and teach, with 'learning plazas', including a mix of open spaces for group work, and traditional classrooms
Meet high standards for energy-efficiency and building performance to support Renfrewshire's plan for net-zero carbon emissions
Be inspired by the heritage of the current Paisley Grammar building - with a main 'internal square' at the heart of the building.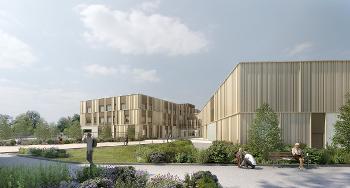 The location of the building also allows for a close partnership with the neighbouring West College Scotland campus, with potential to expand the curriculum on offer to pupils.
Access to the new school will be improved through a separate project being delivered by our City Deal and Infrastructure team to create new road, walking and cycling connections between Paisley town centre and the emerging Advanced Manufacturing Innovation District Scotland (AMIDS) next to Glasgow Airport. That will include:

A new bridge over the White Cart River and east-west link road, from which the new school will be accessed
New safe walking and cycling routes, including a pedestrian and cycle underpass under the adjacent Renfrew Road
Julie Calder, head of education, said: "A huge amount of work has gone into the planning and design of the new Paisley Grammar School Community Campus by colleagues from various services, and I'd like to thank them all for their contribution.
"Along the way we've worked with pupils, parents and teaching staff to capture what they need and want from a new school, and that feedback has been incorporated into the designs you can now see.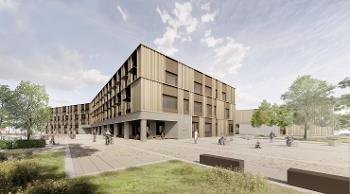 "The new campus will include outdoor and sporting facilities not possible on the current Paisley Grammar site but it will also be a modern learning environment. It will include a state-of-the-art set-up for practical subjects, with a mix of traditional classrooms and breakout spaces, allowing pupils and staff to learn and teach in a range of ways.
"We also want to make sure we maximise the use of the facilities - this will be a community campus, not a building that closes its doors at the end of the school day. The facilities will be open for community use during and out with school hours, and the building has been carefully designed to make sure pupil and public access can be managed separately.
"We are ambitious for our schools and want them to be recognised as among the best in Scotland. When this school opens, it will be on a par with anything you'll find across the country, and we are looking forward to seeing the designs become reality over the next three years."
The community campus is being funded by Renfrewshire Council and Scottish Futures Trust, as part of their nationwide Learning Estate Investment Programme.
Published on Thursday 1 June 2023.