Fairness, trust and respect
Sarah's key ingredients for a healthy team culture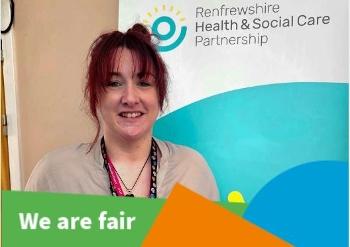 Sarah Conway Sarah Conway's approach to nurturing wellbeing and building trust in her team has been recognised by one of her colleagues as a great example of what it means to be fair.
Sarah is an operations manager from our Renfrewshire Health and Social Care Partnership (RHSCP) community mental health team. For over ten years she has worked with people dealing with life's most challenging circumstances and currently line manages a team of seven social workers, two social work assistants, and a group work facilitator.
Describing her manager as "always supportive, empathetic and kind to her team", social worker Tracy Jones explains why she nominated Sarah for living our values.
Tracy said, "I have faced a lot of challenges in relation to my own health and wellbeing and working with Sarah as my line manager has really improved my confidence in both my abilities and in my achievements. She always goes above and beyond to help me, and I appreciate her honesty and clear communication. She's there whenever she's needed but also enables me to draw on my own knowledge and experience. Not only is Sarah supportive, empathetic and kind to her team, I've noticed that she treats others with the same respect, patience, and understanding."
Reflecting on her nomination, Sarah said:
"I am honoured that Tracy took the time to do this. She is an excellent social worker and I wanted to ensure that I took the right approach to help her flourish. In fact, she has produced some of the best written reports I've ever seen, and the quality of her work now speaks for itself.
"For me, it isn't just about leadership. It's about my team being healthy and treated fairly, so that they can make a positive difference to the people they support in our communities.
"Our council values are very aligned with that of the Scottish Social Services Council (SSSC) and by extension my own as a social worker. I firmly believe that everyone has strength and resilience, and the right support can make all the difference.
Nominate a colleague for living our values
Have you noticed a colleague or team who really get what it means to be fair, helpful, collaborative and value learning? Why not let them know they're doing a great job by nominating them for living our values?
To nominate: Simply complete this short form with some great examples of what they do. For more information on our values and behaviours, head over to the Living Our Values webpage
---
Published Tuesday 15 August 2023