Alan Connolly is living our values
Collaboration saves the day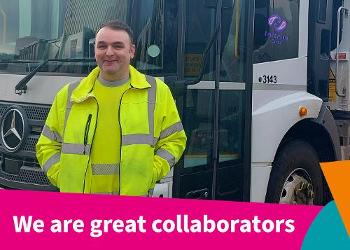 Waste operative, Alan Connolly is used to the physically demanding aspects of his role - walking up to 13 miles in a single shift or working in poor weather conditions, but when he and his colleagues - Donald Cameron and David Petrie, saw flames bursting from the back of their brand-new waste vehicle on its first run, it was their quick thinking and teamwork that saved the day.
Alan takes us through what happened:
"We were driving along our usual route when we heard a sudden bang and saw huge flames pouring out of the back of the vehicle. . We grabbed the onboard fire extinguisher to try to calm the flames but couldn't get it out completely. With three tonnes of waste onboard, we knew we had to find a safe place to eject the load as soon as possible. Not an easy thing to do when you're driving a large vehicle on fire! But we just got on with it and did what we had to do".
Onboard video footage later revealed the flames were caused by a gas canister that exploded and set fire to the waste in the back of the vehicle.
Their quick thinking and safe handling of the situation were praised by their waste operations manager Jock Templeton who has nominated Alan and the crew for living our values. Jock said, "Thanks to their teamwork, collaboration and quick response, they managed to avoid a potential catastrophe and the burn out of one of our new vehicles. I'm very proud of them and want to say a huge thank you for dealing with the situation so calmly and professionally. Well done guys!"
In his 18 years at the council, Alan says he's never had to deal with something quite like that before. He said, "I've heard about similar stories, accidents and near misses. Even though it doesn't happen every day, it doesn't take a lot for something to go wrong. That's one of the reasons collaboration is important to us. I'm glad Jock highlighted that. As well as working together, it means looking out for each other whatever role we are performing that day. When you are driving, your focus is on road safety, but you know the other guys are keeping an eye on the camera and are ready to hit the emergency stop button in case anything happens. We all need to be aware of what's going on at all times and be ready to respond. You never know what's going to happen."
Commenting on his values nomination, Alan said:
"I didn't expect it at all! The way I see it, I was just doing my job, we all were. But it is good to be recognised. It's also important to recognise how we were able to work together as a team and handle the situation safely. I couldn't have managed without Donald and David".
Nominate a colleague for living our values
Have you noticed a colleague or team who really get what it means to be fair, helpful, collaborative and value learning? Why not let them know they're doing a great job by nominating them for living our values?
It's a great way to say thank you for making a difference and demonstrating the behaviours we all agreed were important to us when we developed our values together.
To nominate:
Simply complete this short form with some great examples of what they do.
For more information on our values and behaviours, head over to the Living Our Values webpage.
Published on Thursday 02 February 2023