Values led approach to supporting young people
Living our values leads to success for Project SEARCH team and supported interns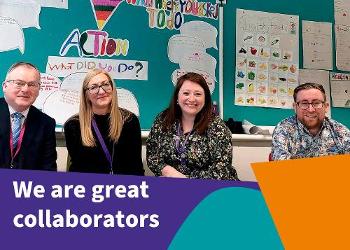 Project SEARCH team* Each year, our Project SEARCH team put our values at the heart of their approach to supporting young people with a learning disability or autism spectrum condition into employment and further education.
Inspired by their approach, senior communications officer, David Christie has recognised the team for living our values, saying: "They are a great example of being collaborators and are passionate about driving this programme locally to benefit young people and secure a brighter future for them."
The small team unanimously agree that it is this commitment to working collaboratively that underpins the success of the programme with over 60% of Project SEARCH interns in Renfrewshire gaining long-term employment.
"It's about bringing everyone together", explains DFN Project SEARCH coordinator, Claire McGarrigle: "That means working in partnership with Glasgow Clyde College and collaborating with council colleagues, the employer, the young person and their family to create the right environment where they can flourish."
The values led approach means the team support young people throughout their journey, from the initial stages to the end of their placement and beyond. Claire said, "Some people we've supported keep in touch with us well after they have moved into employment, and it makes me so proud to see how successful and independent lots of them become."
Sandra Wright, who is a lecturer at Glasgow Clyde College and an integral part of our Project SEARCH team partnership, says this can be a far cry from the perceptions many young people have when they first enter the programme: "Too often young people with a learning disability or autism spectrum condition are told they're not capable of working in an ordinary job.
"Through Project SEARCH, we flip that narrative and show them that what they thought was a limitation, can instead be a superpower they can use to achieve more than they ever thought possible."
DFN Project SEARCH coordinator, Ian Stewart added: "We empower interns to unlock their own potential and we instil in them the same values that drive what we do. They might have learning challenges, but they also have a range of fantastic abilities, and often prove themselves to be among the most reliable employees."
The big impact that this small team makes by putting our values into action is clear to see and assistant economic development manager, Michael Moran said he felt humbled that the team were nominated by David: "It was nice to have a colleague recognise what we do, and I hope through sharing our story we'll be able help even more people."
The next intake of Project Search interns starts in August 2023 and the team would like to ask council colleagues to encourage any Renfrewshire residents they know who are aged 17 - 29 with a learning disability or autism spectrum condition, or both, who want to find a job to apply to join our successful Project SEARCH programme.
Nominate a colleague for living our values
Have you noticed a colleague or team who really get what it means to be fair, helpful, collaborative and value learning? Why not let them know they're doing a great job by nominating them for living our values?
It's a great way to say thank you for making a difference and demonstrating the behaviours we all agreed were important to us when we developed our values together.
To nominate: Simply complete this short form with some great examples of what they do. For more information on our values and behaviours, head over to the Living Our Values webpage.
*Above - Project SEARCH team: Michael Moran - assistant economic development manager, Sandra Wright - lecturer, Glasgow Clyde College, Claire McGarrigle - DFN Project SEARCH coordinator, Ian Stewart - DFN Project SEARCH coordinator
Published Monday 27 March 2023