The Atrium Café team are living our values
Helping to lift people's spirits
When Raymond Cree nominated the team at The Atrium Café for living our values, he described them as "without doubt some of the nicest and hardest working staff" he sees. He looks forward to seeing their daily chalkboard slogan and says the team are always upbeat and welcoming with smiles on their faces.
"They're always lifting people's moods...Working front of house and dealing with staff and the public isn't easy, but they do it with pride and professionalism. Nothing ever seems too much trouble for them."
- Raymond Cree, organisational development & workforce planning manager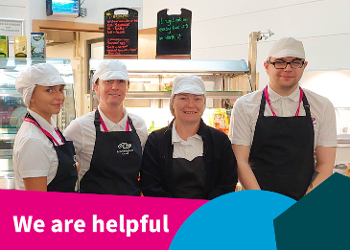 Lucy, Amanda, Belle and Sean We met with catering assistants Amanda Pearson, Belle Mcilhargey, Sean Mcilhargey and Lucy McPhail, together with their team leader Lynne Porter, to find out what our values mean to them.
When The Atrium Café reopened after lockdown, Amanda wanted to bring some positivity, so she introduced the cheery slogans, writing a new helpful quote on the chalkboard for staff and visitors, to suit the mood each day.
She said, "I look for quotes that I think people will find relatable. I usually start off on a Monday with something motivational to help get everyone into a good mindset for the week ahead. Then on a Friday it's something like "Happy Fri-yay!" and I draw a wee sunshine to bring a bit of warmth to the place - even if it's pouring down outside!"
Creating a sunny feeling sums up the attitude of the team who are always doing their best to brighten the mood and lift people's spirits.
Belle added, "I like getting to know our customers and when we see someone who looks like they're not having a great day, we try to cheer them up a bit. We see a mix of customers - colleagues, visitors for meetings and local people - and no matter who it is, we want their visit to The Atrium to be a nice experience".
Amanda: "We've got great working relationships and we all have helpful natures which is essential as well as a good sense of humour! I think all that comes across at the counter when we're serving people.
"I try to put myself in the mindset of the customer. Maybe they're having a challenging day in their job, and they pop down to The Atrium for a quick cuppa, they'll also get a smile and a bit of friendly conversation if they want it. Maybe even a laugh! I like to think we are giving people a wee boost during their day".
As well as living our values with customers, every member of the team is committed to looking out for each other taking care of their health and wellbeing.
Sean explained, "We all support each other and step in to give someone a hand when they need help. That's what living our values means for me. If I look worried about something, someone is always there to reassure me. Sometimes it's easy to feel pressure to serve as many people as we can, as quickly as possible, because we don't want customers waiting for too long. But it's not just about getting the queue down, it's about customer service, looking out for people and that includes ourselves and each other."
Belle said, "I really appreciate the support I get from our team leader Lynne Porter and our managers Lynne Tervit and James Doyle. They are all caring people and I know I can go to them about anything".
Senior catering assistant, Lynne Porter is proud to have a team she can count on to give customers the best experience. She said, "I know and trust my team to work to the best of their abilities. Regardless of my presence in the kitchen, they always pull together and work as a team and follow the guidance from their training".
Lucy McPhail is the youngest and newest member of the team and loves the atmosphere. She said, "This is my first full-time job and I enjoy every day. Everyone is kind and they have helped me learn and do my best".
On being nominated for living our values, Amanda said, "the recognition feels good, and it gave us a wee boost to receive it. It's easy to think of us as just a café, here to sell you tea and coffee and rolls etc. But we are so much more than that and we all take pride in what we do, especially creating a happy environment for ourselves and everyone who visits".
The day's cheery chalkboard slogan above reads "It might not be easy. But it'll be worth it."
Here's few of the team's favourite chalkboard quotes:
"Success is never permanent, and failure is never final"
"Happiness is an inside job"
"Be kind, be thoughtful, be the best version of you"
"Don't let yesterday take up too of much today"
"Strive not to be a success, but rather to be a value"
"FRI-NALLY"
Nominate a colleague for living our values
Have you noticed a colleague or team who really get what it means to be fair, helpful, collaborative and value learning? Why not let them know they're doing a great job by nominating them for living our values?
It's a great way to say thank you for making a difference and demonstrating the behaviours we all agreed were important to us when we developed our values together.
To nominate:
Simply complete this short form with some great examples of what they do.
For more information on our values and behaviours, head over to the Living Our Values webpage.
Published on Thursday 26 January 2023