Values at the heart of cancer support
Louise and Charlotte recognised for their help and care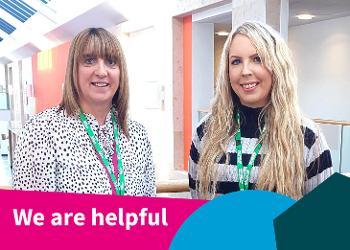 Louise (left) and Charlotte (right) Our Improving the Cancer Journey (ICJ) team are passionate about what they do. Driven by our values, their partnership with Macmillan Cancer Support and NHS Greater Glasgow and Clyde, provides much-needed help to families dealing with cancer and other long term health conditions.
Their approach to holistic care opens up a wealth of information and resources at a time when many people aren't sure which way to turn. A feeling shared by Angela McCarthy who has nominated two members of the team for their support when her mum was diagnosed with cancer.
Angela, who works in Risk Management for Renfrewshire Health and Social Care Partnership, said: "Both Louise O'Connor and Charlotte Blom have gone above and beyond. They were extremely helpful in supporting me to find and access the care and services I needed for my mum. People in Renfrewshire are extremely lucky to have this service with staff who care as much as they do about others."
When told they'd been nominated for living our values recognition, Louise and Charlotte were moved by Angela's lovely comments. Louise said, "Our team are all driven by our passion for what we do, there's a real human element to our work. That's the reason we can go above and beyond for people."
Charlotte added, "I love working in a team where our values are central to what we do. It's what motivates me, even when we are dealing with difficult circumstances. Seeing the impact and knowing that we are really helping people is the thing that keeps me going.
"We also share an understanding, that for us to give the best service where we are fair and helpful to everyone, we need to look after each other."
The sense that our values are embedded into the team's day to day approach is also reflected in their extra-curricular activities. Louise is taking part in the Glasgow Kilt Walk this April to fundraise for MacMillan, "It's a great charity and I'm so proud to be able to work in partnership with them at the council. The more I can do to help and keep providing this service, the better!
"I want all our colleagues to know that, while we hope you won't ever need us, if you do, we are here for you. Whether it's yourself, or a loved one who has cancer or a long-term condition, and whether you live in Renfrewshire or elsewhere, we are here to help. Just get in touch and we can have a chat."
If you want to speak to Louise about the help available from our ICJ service, or if you would like to support her to raise money for MacMillan at this year's Glasgow Kilt Walk, you can send her an email at louise.oconnor@renfrewshire.gov.uk.
Full details about the service are available on the Improving the Cancer Journey webpage.
Nominate a colleague for living our values
Have you noticed a colleague or team who really get what it means to be fair, helpful, collaborative and value learning? Why not let them know they're doing a great job by nominating them for living our values?
It's a great way to say thank you for making a difference and demonstrating the behaviours we all agreed were important to us when we developed our values together.
To nominate:
Simply complete this short form with some great examples of what they do.
For more information on our values and behaviours, head over to the Living Our Values webpage.
Published on Tuesday 16 March 2023