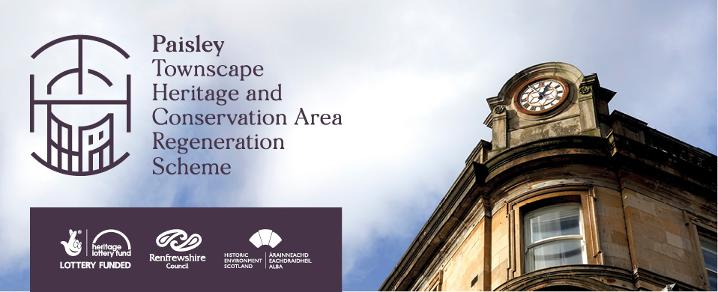 Paisley Townscape Heritage and Conservation Area Regeneration Scheme 2
Paisley Townscape Heritage and Conservation Area Regeneration Scheme (Paisley TH.CARS2) is a building repair and shopfront improvement grant scheme, which aims to improve historic properties and streetscape within the TH.CARS2 area to help regeneration in Paisley. The scheme was launched on the 21st February 2017 and it will run until 2022.
On this page:
Please note: This scheme is now closed to new applicants.
---
Paisley TH.CARS2 is funded by National Lottery Heritage Fund, Historic Environment Scotland and Renfrewshire Council, and gives grant opportunities to property owners in a defined area of Paisley Town Centre focusing on High St, New St, Shuttle St and George Pl.
A programme of Heritage Education, Training and Events will be delivered. The activities will engage diverse audiences with the heritage and culture of Paisley, with an emphasis on learning through making, particularly around traditional building skills and textiles.
---
Under the TH.CARS2 scheme the Building Repair Grants will be available for structural and external repairs to historic buildings, which are still in use, including improvements to shop fronts. Internal repairs are generally not included unless necessary for structural stability.
A number of buildings have been identified as Priority Projects due to their listing, status, heritage value, prominence and/or the impact their appearance makes within the TH.CARS2 area. These buildings are the focus for funding. The remaining funds will be made available to other buildings within the TH.CARS2 area. The allocation of remaining funds will be determined by assessment against required criteria. Grants will be awarded in accordance with the terms and conditions of Renfrewshire Council, Historic Environment Scotland and the National Lottery Heritage Fund.
Grant level
Small Grants and Standard Grants will be available for up to 80% of the cost of eligible building repair work and 90% of the cost of eligible shopfront repairs.
How to apply
You can apply for a grant if your property is located within TH.CARS2 boundary and you meet the criteria. Scan your signed application and email it with supporting documents to Th.cars2@renfrewshire.gov.uk. Unfortunately, we can't process postal applications just now as our team are working remotely.
The Project Team will assess your eligibility and can provide the Application Pack including important information on eligibility criteria, documentation required and the application process. The Application Pack contains:
---
Following the success of the Building Maintenance Plan Programme in 2020, a second round of free external building condition surveys will be available to property owners in 2021.
Ongoing maintenance is a major challenge for owners of historic property and to provide the necessary information to carry out regular maintenance, a condition survey is required. As part of the TH.CARS2 programme, a limited number of free external condition surveys will be available next year to property owners for buildings which meet the following criteria:
Are located within Paisley Town Centre Conservation Area
Are in shared ownership or shared use
To register your interest in being considered for this programme in 2021, owners should complete a preliminary application form and submit it by email to this address: Th.cars2@renfrewshire.gov.uk. This form can be found on this page in the Related Documents. If you have a factor for the property, you may choose to request that they complete and submit the preliminary application form, however, an owner may submit a preliminary application on behalf of the owners of the building.
Please include the following information on your preliminary application form under Description of works:
Has the building had a condition survey completed in the past 5 years?
When was the last Maintenance Plan for the building prepared?
Have all the owners provided consent for a condition survey to be carried out and a Building Maintenance Plan prepared?
Type of Property such as

Shared/Single Ownership - Residential
Shared/Single Ownership - Commercial
Shared/Single Ownership - Mixed Residential / Commercial

Has the building or units within the building been in receipt of a TH.CARS2 grant or any other building repair grant in the past 5 years?
Please note that should your building be selected for inclusion in the programme, the necessary consent of all owners is essential and is required to be evidenced before the building survey is carried out.
If you have any questions regarding the above, contact the TH.CARS2 team at Th.cars2@renfrewshire.gov.uk.
---
The Traditional Building Skills Training Support is a grant for training people in traditional building skills and the conservation of historic buildings. It is available to small or medium sized construction companies in Renfrewshire. You can use the grant to increase the traditional building skills and conservation knowledge of your employees.
Find out more about the traditional building skills training grant.
---
For a taste of the project visit Paisley TH.CARS2 - about the project.
You can also find further information about the schemes on the funders' websites: