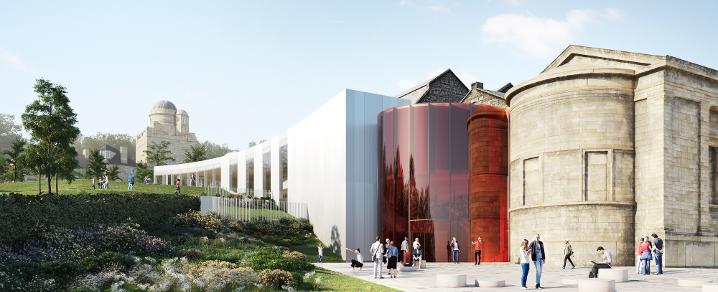 Paisley Museum Reimagined
Information on Paisley Museum, what's being done to transform the building, who's leading the redesign, what the benefits will be,
Paisley Museum is being transformed into a world-class attraction housing the town's outstanding collections and bringing to the life the stories of its people, pattern, and much more, due to reopen in 2024.
The work is the flagship project within a wider investment in the town, aimed at using Paisley's unique and internationally-significant cultural and heritage assets to transform the area's future.
What's being built
The project will create the following:
new red-glass accessible entrance and extension
an outdoor garden and new public space for the town, opening up previously-hidden views of the observatory
external and internal repairs to preserve the A-listed main building and Coats Observatory, the oldest public observatory in Scotland
an expansion of the museum into the space formerly occupied by the old Paisley Central Library
space to double the number of objects from Paisley's internationally-significant collections which can go on show
new lifts and step free access to all floors, making the buildings more accessible to all
new café-restaurant and shop
dedicated learning spaces, and heritage centre to study local history
Who is leading the redesign
The project is being led by OneRen, who will operate the reopened museum.
The building was redesigned by world-renowned architects AL_A - who have worked on landmark projects across the globe, including the V&A museum in London.
AL_A's founder - Stirling Prize winner Amanda Levete - described the Paisley Museum Reimagined project as "one of the most radical briefs I have read".
The Paisley Museum Reimagined project is being co-designed in partnership with the local community and the project team have worked with hundreds of local people and groups to capture and help tell their stories.
What the benefits will be
The project will deliver the following:
around 125,000 visitors a year and a £79m boost for the local economy over 30 years
138 jobs supported during construction, and 48.5 jobs per year through revenue and visitor spending
new footfall for the town centre, pulling people up the High Street, and bringing new trade into surrounding businesses
Paisley's profile and story reaching a Scottish, UK and international stage
a new social and community hub for people of all ages to learn
How it is being funded
Around half of the £45m project cost is coming from Renfrewshire Council. The project is also being supported by the National Lottery Heritage Fund, the Scottish Government and its Regeneration Capital Grant Fund, as well as a number of other trusts, foundations and private donors.
The Paisley Museum Reimagined fundraising team are running the capital appeal to help fund the project and you can read more on their website.
More info on how to book the museum and what's in the collections can be found on OneRen's website.