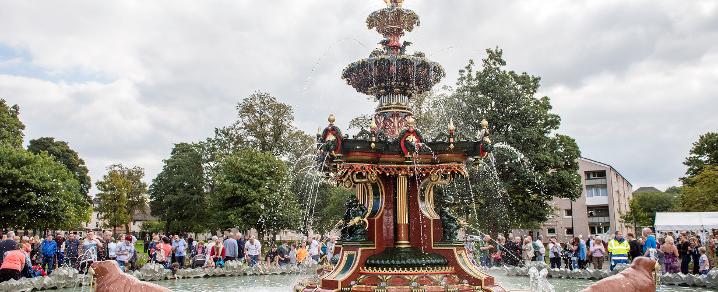 Grand Fountain Interpretation and Restoration Project
Paisley's A-listed Grand Fountain has been restored to its former glory after a year-long restoration project.
The project funded by Heritage Lottery Fund, Historic Environment Scotland and Renfrewshire Council has beaten world-famous competition to be named as a winner at the prestigious UK awards ceremony. The project won the Conservation or Restoration category at the Museums and Heritage Awards in London ahead of nominees from the Tate galleries and the Bletchley Park WW2 heritage site.
Judges praised the Renfrewshire Council led scheme, saying it 'combined painstaking research with clear community outcomes resulting in the greatest reward of all, civic pride'.
Overall, the Grand Fountain was one of only four Scottish projects to even make the shortlist of 58 nominations from across the UK and abroad.
The project included funding from the Heritage Lottery Fund and Historic Scotland and was delivered with great support from local groups Friends of the Fountain Gardens and the STAR Project.
The specialist contractors for the project were Wigan-based Lost Art Limited who developed new techniques to improve the process of cast-iron restoration and conservation engineer Jim Mitchell of Industrial Heritage Consulting Limited.
Work began on site in summer 2013 and was completed in summer of 2014
Memories
Do you have memories of the fountain and gardens? We'd love to hear your stories and see your photos of the fountain and gardens in the past.
The stories of the people who use and have used the gardens is an important part of the fountain's history and we'd like to collect as many as possible. Get in touch via email, phone or post at the contact details below.
Location
The fountain is located in the centre of Fountain Gardens, Paisley, north of Paisley town centre. The gardens can be entered from Love Street or Caledonia Street.
History
The 1868 cast-iron fountain was designed and built by the Sun Foundry, Glasgow. It is the only one of its kind and stands an impressive eight metres tall as the centrepiece of the Fountain Gardens in Paisley.
The fountain was gifted to the town by the Coats family of threadmakers, making it an important part of the town's legacy from its proud textile-making past.
The 'Interpretation and Restoration' project also aimed to enable local people to get involved in activities and events celebrating the social history of the Fountain Gardens.
The fountain was officially switched on for the first time on 6 September 2014, with a well-attended Victorian-themed garden party held as part of Doors Open Day.