Future Paisley
Future Paisley is an exceptional programme of cultural events and activity based around Paisley and Renfrewshire's unique and internationally-significant story which uses targeted investment to deliver positive change.
The programme is putting culture at the heart of Paisley and Renfrewshire's regeneration, and harnessing the power of culture to support people's lives for the better, by integrating its benefits through key public services such as health and social care, education and housing.
On this page:
What Future Paisley aims to achieve
The Future Paisley partners
Future Paisley projects - already delivered
Future Paisley projects - happening now
Cultural funding
What else is happening
How to stay in touch
Future Paisley aims to build on the work done during Paisley's bid to be UK City of Culture 2021, which saw us become the first town to ever reach the competition's shortlist, generated UK-wide and international profile, and helped transform the town's reputation.
The bid saw an area-wide conversation about what makes Paisley special, and how the town's unique cultural offering could be used to transform places and lives. Future Paisley is based on the results of that and was designed to be the next stage of the town's journey.
The programme has identified five step changes:
1. Radically change Paisley's image and reputation in Scotland, the UK, and internationally.
2. Raise prosperity and increase wellbeing in our communities.
3. Paisley will be recognised for its cultural innovation.
4. Transform Paisley into a vibrant town centre.
5. Develop a sustainable and resilient creative economy in Renfrewshire.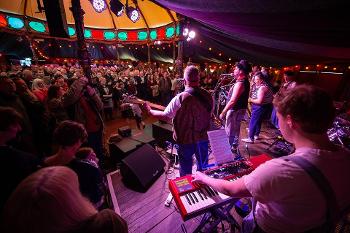 Culture has a proven impact on health and wellbeing - Future Paisley aims to make those benefits available to everyone in Renfrewshire. It is doing that through new collaborations and programmes, by supporting the local creative sector to grow and thrive, and funding some of the major events which have already made Paisley one of Scotland's top cultural destinations.
Future Paisley is also supporting the once-in-a-generation investment in Paisley's cultural venues, which includes transformations of the town's museum and town hall.
We hope that by using what sets us apart to change our future, Paisley will become seen as a leader for towns everywhere.
The programme is led by the council and OneRen, in partnership with a wide range of organisations, including Renfrewshire Health and Social Care Partnership, the University of the West of Scotland, Engage Renfrewshire and NHS Greater Glasgow and Clyde.
It is governed by a partnership board which features representatives from the above, as well as organisations including the STAR Project, Paisley First, Creative Scotland, Arts & Business Scotland, Scottish Future Trust, Skills Development Scotland, Visit Scotland, EventScotland, Glasgow School of Art, Scottish Enterprise, NHS Greater Glasgow and Clyde, Renfrewshire Chamber of Commerce, Police Scotland, Glasgow Airport, West College Scotland and University of Glasgow.
Here are some of the projects which have already been delivered through Future Paisley:
Future Paisley exhibition
This major exhibition took place in early 2022 and used innovative technology to bring to life the once-in-a-generation collection of major regeneration projects being delivered in and around the town. It also asked visitors what they wanted for the future of their town, and how places like Paisley could adapt to face the big challenges facing the world in the years ahead. A smaller mobile version of the exhibition is now in the Art Department in Causeyside Street.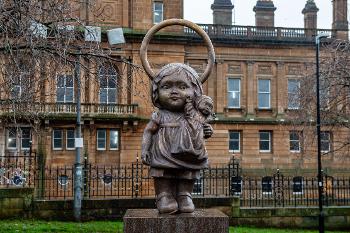 Glen Cinema memorial
The first permanent memorial to one of the darkest days in Paisley's history, when 71 children lost their lives during a crush in the town's former Glen Cinema on Hogmanay 1929. As part of the 90th anniversary of the tragedy, artists Kerry Stewart and Rachel Lowther were commissioned to work with the local community on a suitable memorial, with their statue - entitled Rattle/Little Mother - now standing in the town's Dunn Square.
Underwood Lane
The long-awaited new play written by one of Paisley's most-loved cultural sons, John Byrne. Underwood Lane was inspired by John's childhood in Ferguslie Park alongside his friend Gerry Rafferty. Much like his acclaimed Slab Boys trilogy, it was rooted in the Paisley of John's youth and tells a story of love and loss based around a band aiming for the big-time. The play was co-produced by OneRen and the Tron Theatre, and won rave reviews when it premiered at Johnstone Town Hall in July 2022.
Thread
A co-production between Kick The Door and One Ren, Thread is a new Scottish musical written to celebrate Paisley but is ultimately a show that speaks of any community of people. The cast of actor-musicians weave a narrative through instrumentalism, poetry, and movement. Thread premiered at Renfrew Town Hall in May 2022 and will be part of the reopening programme of Paisley Town Hall in 2023 before embarking on a Scotland-wide tour.
Here are some of the projects currently being delivered through Future Paisley:
Paisley Halloween Festival
The award-winning Paisley Halloween Festival is one of the biggest and best of its kind in the UK and the flagship event in Renfrewshire's major events programme. The festival was first staged in 2014, and brings a mix of electrifying live performances and spine-chilling installations, attracting tens of thousands to Paisley town centre each year. Each year, the festival provides hundreds of local young people and residents with opportunities for co-creation and volunteering.
'What Hogmanay is to Edinburgh, Halloween is to Paisley' - The National
Art Boss
Art Boss is an award-winning creative young producers' project developed and delivered by the council and OneRen. It aims to develop skills for care-experienced young people, young carers and young people who need support to improve their mental health and wellbeing by helping them programme cultural events, works and happenings for their peers. Art Boss continues to expand and develop, with a second group planning to launch in early 2023.
Tannahill Makar
The Tannahill Makar Shaun Moore assumes the role of poetry ambassador for Renfrewshire and will reflect the life of Renfrewshire through formal readings of poetry and by writing a number of poems each year to mark moments of cultural importance or local life. These will be identified in collaboration with the Provost's Office and OneRen. Since his appointment in 2022, Shaun's role has included participating in the Reconnecting Communities event where he produced a poem to represent the statements made by community participants.
Paisley Book Festival
Delivered by OneRen, Paisley's very own Book Festival has brought some of the biggest names in the country's literary scene to the town. The first event in 2020 set out to celebrate the town's rich history and radical spirit, inspired by the inspired by the anniversary of the 1820 Paisley Radicals uprising. The festival continued online in 2021 before reintroducing in-person events in 2022. It will be back for a fourth year in 2023 - so look out for line-up details once confirmed.
Women's Unpaid Work
This programme was constructed for women in Renfrewshire who have received Community Payback Orders from the courts. With a focus on developing their skills, a range of textile products are produced for sale by sewing, knitting, and crocheting. Any proceeds made are redirected back into the programme to support more women. As well as developing practical and creative skills, the aim is to contribute towards raising the women's confidence, resilience and aspirations and offer positive opportunities for their future.
The Sculpture House
A new cultural hub located in Ferguslie Park, The Sculpture House will become a new artistic facility, consisting of artists' studios, workshop space and grounds, offering the local community a vibrant, and artistic resource within their neighbourhood. This initiative is in direct response to the Ferguslie neighbourhood community's interest in an artists' residency and creative community space. The Sculpture House Collective are committed to the values of sustainability, wellbeing, inclusivity, and creative excellence in developing this asset over the coming years.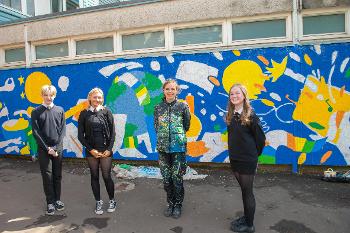 Castlehead School of Creativity
Castlehead become Scotland's first School of Creativity through this unique partnership with Glasgow's world-renowned School of Art. The partnership aims to embed the benefits of creativity across the full curriculum, based on research showing that learning through arts and culture can improve attainment and life skills across all subjects. The link-up sees GSA tutors helping run classes and activities at the school. Women's Unpaid Work.
Read more on the project here.
Cultural Social Prescribing
Cultural Social Prescribing aims to improve the health and wellbeing of Renfrewshire's communities' by supporting individuals to access a range of life-enhancing and accessible cultural opportunities that meet their needs and improve life chances. This is driven by partnership working with relevant voluntary, third sector and community organisations, who act as a conduit for referrals from GPs and other health services, by creating a 'menu' of cultural activity.
Ethnic Communities Cultural Steering Group
The Ethnic Communities Cultural Steering Group was formed in 2021 to co-produce, programme, and curate work relevant to Renfrewshire's Ethnic Community throughout the year. It was initially formed from a subgroup of diverse partners from across Renfrewshire who successfully worked together to co-produce the inaugural Cultural Programme for Black History Month 2020: Our Culture, Our Future.
Centre for Culture, Sport and Events (CCSE)
A research centre at the University of the West of Scotland, established in 2018 through a partnership between the university and the council. The centre conducts research activity in four key themes: place-focused cultural regeneration; arts, cultural diplomacy and soft power; media, communications and digital cultures; and sport, cultural events and festivals.
Read more on the CCSE website here
Future Paisley has provided a number of funding programmes aimed at helping Renfrewshire's cultural and creative groups to grow and thrive.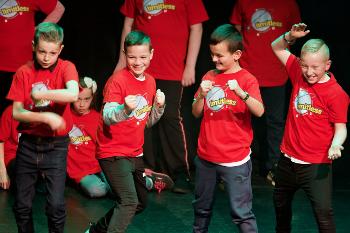 Culture, Heritage and Events Fund (CHEF)
CHEF supports projects that develop, practice and encourage engagement and participation in cultural and heritage activities and events across Renfrewshire. Since 2016, CHEF has provided £1.14m to support 135 creative projects, which have included: festivals, events, workshops, murals, performances, exhibitions, tours and productions in music, dance, theatre and drama, heritage, literature, film and animation. Round 11 of the fund will support projects which will be delivered across Renfrewshire between 2022 and 24.
Cultural Organisations Development Fund (CODF):
CODF aims to strengthen and build the capacity of local cultural and creative organisations in Renfrewshire. It aims to support organisations to take the next steps in their strategic development, to help raise cultural ambition in Renfrewshire, and to support organisations with an ongoing commitment to diversifying and expanding cultural participation. £380,000 was awarded in grants to seven Renfrewshire-based cultural organisations between 2019 and 2022. Round three of the fund will support activity between 2022 and 2024.
Renfrewshire's Cultural Recovery and Renewal Fund (RCRRF)
This was developed in 2020 to help the local cultural sector adapt to impact of Covid-19. The fund recognised the different elements needed to retain a healthy and sustainable cultural sector in Renfrewshire, and offered three grant programmes:
artist development grants supported the livelihoods of 24 freelance artists living and working in Renfrewshire during the pandemic.
town centre and neighbourhoods creative installations grants funded projects that animated public space, that were enjoyed by communities during lockdown measures.
cultural organisations support grants protected 10 cultural organisations across Renfrewshire during the pandemic.
Future Paisley is part of a much wider investment which includes our once-in-a-generation investment in Paisley's historic cultural venues, already well under way. This includes: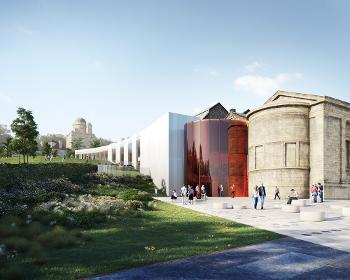 - turning Paisley Museum into a world-class destination and transformed home for our internationally-significant collections;
- keeping Paisley Town Hall at the heart of life in the town as a landmark entertainment venue,
- building a new home for library services in a Learning and Cultural Hub on Paisley High Street;
- extending and refurbishing Paisley Arts Centre;
- transforming Abbey Close into an expanded home for outdoor events and outdoor space for people to gather
- the opening of the UK's first High Street museum store, Paisley: The Secret Collection,
Future Paisley is also supporting the area's year-round major events programme, which includes established days out such as Paisley Halloween festival, The Spree, Sma' Shot Day and Paisley Food and Drink Festival.
And the programme is supporting the paisley.is destination campaign and website - which highlights everything that makes Paisley and Renfrewshire a great place to live, work and visit.
Renfrewshire is also home to a vibrant year-round programme of gigs and cultural activity in venues across the area. Support your local events and your local venues. You can see what's happening near you in the What's On section of the paisley.is website.
Email: futurepaisley@renfrewshire.gov.uk
Twitter: @FuturePaisley
Facebook: /FuturePaisley