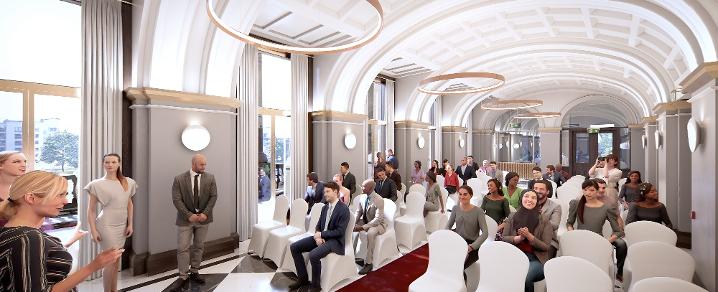 Paisley Town Hall
Information on the work to transform Paisley Town Hall, when it will reopen, what's being built, what the benefits will be
Paisley Town Hall has been a striking centrepiece at the heart of life in the town for the last 140 years - and the transformation we are delivering will keep it there for generations to come.
This 19th-century architectural gem is being turned into a landmark entertainment venue for the west of Scotland. The work is taking place as part of our wider investment in town centre venues and outdoor spaces, aimed at using our internationally-significant cultural and heritage story to bring people here and transform the area's future.
Construction work is due to be complete in summer 2023, after which the building will be handed over to our colleagues at OneRen, who will fit it out and have it it open in time to host the Royal National Mod in October.
You can watch our great fly-through video showing a day in the life of the town hall - produced by design studio Visual Lane and project architects Holmes Miller - below:
What's happening to the building
The work will transform what the building can do. When it reopens, expect the following:
improvements to the main hall including an increased capacity of 1,200 allowing bigger and better events, driving new visitors and footfall into the town centre and surrounding businesses, day and night;
unused spaces brought back into use and new rooms created including a dance studio, café-bar with terrace, screening room, revamped reception area and more - allowing the building to host a bigger and bigger range of events;
a much-improved audience experience including improved staging, lighting and seating with better views, and improved access making it easier for everyone to move around the building;
a complete replacement of the old and outdated electrical and mechanical systems;
More info
You can read our list of ten things the town hall revamp means for you.
You can also watch our behind-the-scenes video from before construction started in March 2021, as our project director Neil takes you on a tour of the town hall, showing the building stripped back as you've never seen it before: