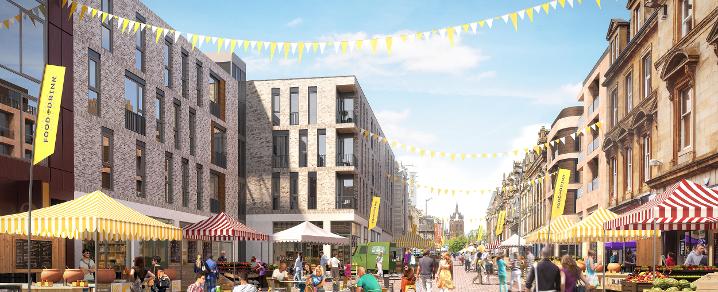 A Vision for Paisley town centre 2030
What might Paisley town centre look like in ten years' time? The Paisley Vision report imagines some radical ideas for how the town centre could evolve.
Town centres and high streets matter. They are the home of our shared stories and history, and hubs for everything that bring people together. More than that, they are the 'front room' of a town - they are intrinsically linked to how people think and feel about their place.
Renfrewshire Council has a number of specific strategies in place to ensure all our town centres are thriving places people can be proud of and want to live, visit and do business. The biggest of our centres, Paisley, has lots to be proud of - but some well-documented challenges we want to tackle.
We understand many people have fond memories of the bustling Paisley High Street of days gone by, but the world has changed - and Paisley has to too. We can't turn the clock back to the High Street of 30 or 40 years ago, but we can look to the future and consider what the town centre needs to thrive again - and that means radical thinking.
Last year, Paisley was chosen by the Scotland's Towns Partnership and the Scottish Government to be a pilot case for a piece of work reimagining how a town centre could be redesigned to better meet future need. That document - the Paisley Vision - is now published.
We will look in more detail below at what it says but it is important to stress the Vision is not a set of plans - it's a set of ideas looking at what could be possible. The Vision is jointly owned by a number of partners - while Renfrewshire Council endorses the thinking behind it, the ideas it contains are not ours, and we are not required to deliver on them.
You can read the full document for yourself via the Re;lated Documents list (right). We want the Vision document to start a big conversation about Paisley town centre which will help change it for the better over the years ahead. This Q&A explains how. Please read on...
-- -- -- -- -- -- -- --
What are the challenges facing town centres?
Paisley town centre's challenges are not unique - all towns and cities are facing the same problems, and the traditional UK high street is in decline. Around one in 10 units on UK high streets are empty. 2019 was declared the worst year for British retail in a quarter-century.
The reasons are universal - the internet has changed how people shop and do business (around 20% of all retail is now online) and traditional high streets have been the losers. The big-name retailers which once filled towns everywhere are either going out of business or reducing store numbers to concentrate on the highest-footfall locations, which tend to be in cities or out-of-town. So towns cannot rely solely on shops any more - they have to offer more.
Another challenge for Paisley is that Scotland's biggest city and some of the country's largest retail and leisure destinations are within easy reach. And while the town is architecturally beautiful, a town centre built over centuries cannot offer the same convenience or ease of access as modern facilities built around the car. You can read more about the challenges for Paisley town centre and what the council can and can't do to tackle them here.
What is already happening to change things?
There's lots we are doing already. Renfrewshire Council believes the future for Paisley town centre is in using what sets it apart to attract new life and footfall, which will in turn encourage people to invest. We have loads to shout about. Paisley has a great location, thriving cultural scene, stunning buildings and fascinating history. Here's what already happening to make the most of that: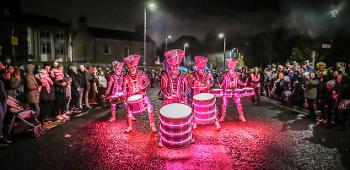 - Paisley is already one of Scotland's key destinations for events, with 160,000 visits a year to our programme of big days out such as the Halloween Festival and The Spree, which between them were worth £1.2m to the local economy in 2019. The paisley.is destination campaign promotes our unique visitor attractions.
- £100million is being invested in our cultural venues and outdoor spaces over the next few years - including transforming Paisley Museum into a world-class destination showcasing our internationally-significant collections, preserving Paisley Town Hall's place at the heart of the town as a landmark entertainment venue, work to make our key public spaces and gateway road junctions more welcoming, and extending Paisley Arts Centre into a lively entertainment hub.
- We are already finding new cultural uses for formerly-empty units - with a new learning and cultural hub being built at 22 High St to house library services, and Paisley: The Secret Collection - the UK's first publicly-accessible high street museum store, already open at 9a High St.
- The town's UK City of Culture 2021 bid did a huge amount to help change Paisley's reputation and boost its profile. That momentum will continue over the years ahead through Future Paisley - a radical and wide-ranging programme of events, activity and investment designed to put culture at the heart of the area's ongoing regeneration.
- community-led ventures, such as the Paisley Community's Trust's ambition to build a cinema on the High Street, the work to bring Thomas Coats Memorial Church back into use as a venue, and PACE Youth Theatre's plans for a new town centre theatre.
- The town centre is home to some great businesses - there are superb places to eat and drink with more opening all the time, and independent retailers selling things you won't find elsewhere. We are encouraging residents and staff to Spend Local and support them.
- the Paisley First business improvement district was recently renewed for another five-year term and is doing loads of great work to host events, support town centre traders and promote what's on offer here - such as the Paisley Winterfest event and the series of town trails.
- several completed or ongoing new housing developments around the town centre bringing in new residents - such as at Abbey Place, on the former Arnotts site, the former Carnegies site on Old Sneddon Street, and the former Institute nightclub on Bridge Street, while new plans have just been released to turn the TA Building into student housing. That shows Paisley town centre is recognised as an attractive place to live.
- crucially, there is also major infrastructure projects happening close to the town through the Glasgow City Region City Deal - which which will bring thousands of new jobs to Renfrewshire through new transport links and investment in key developmentg sites, including what will be Scotland's new centre for advanced manufacturing
What is the Paisley Town Centre Vision document?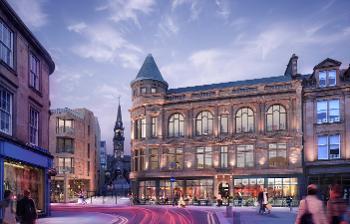 The Paisley Vision is the result of a study commissioned by Renfrewshire Council, the Scottish Government, and Scotland's Towns Partnership. It was produced by Threesixty Architecture.
Their brief was to imagine how Paisley could be redesigned to deliver a re-energised High Street. The issues they looked at affect towns everywhere - and the authors believe Paisley's response to them could see it become recognised as a leader for towns throughout Scotland and the UK.
They focused on the area around the High St at the heart of the town centre. Events were held to gather views from key stakeholders - including community groups, businesses, educational establishments and private developers, and an expert panel convened to look at the results.
What they produced is based on the idea that Paisley town centre has more retail space than it needs - now and in the future. The authors suggest that rather than managing the decline of the old way of doing things, Paisley can be transformed by finding new uses for that empty space, based around community need.
They are clear the Paisley of the future will still have shops - as they say 'retail will go where people go'. But they suggest the remaining retail could be concentrated together - allowing vacant space to be filled by new uses which will bring people in, and support local traders.
What are the ideas the Vision puts forward?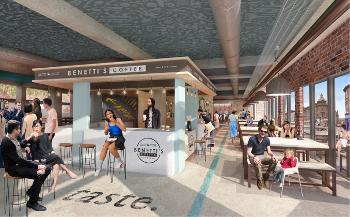 Ideas suggested by the authors include:
- bringing people back to the town centre by introducing new town centre living for various groups - from students to the elderly. This could be done through building a new residential quarter, filling existing gap sites with flats, or new homes on the upper floors above existing retail units;
- building new 'attractors' such as a town centre cinema, or a European-style food hall housing independent food and drink businesses;
- bolstering existing retail by concentrating it back on to the High Street and street-fronts;
- shared office space for one-person companies, or makers spaces for artists and creatives;
- new lanes or streets opening up new views of the town, or linking main streets to 'hidden' areas such as Oakshaw;
- a new hotel close to Paisley Gilmour Street station;
- partially widening the High Street to create new space for on-street activity and events;
- potential new uses for some of the key architectural sites on and around the High Street - such as the Liberal Club, YMCA Building and TA Building;
- relocating parts of the University of the West of Scotland and West College Scotland campuses to the heart of the town.
What are they suggesting could happen to the Paisley Centre?
The authors suggesting repurposing a shopping centre 'could save a High Street...one bold move can rebalance the uses within a town centre'. They say this opportunity exists in Paisley, where 45% of the town's retail space is under single ownership in the Paisley Centre, a lot of it empty.
There are a number of towns and cities around the UK where this is already happening. The authors cite the example of the Bargate in Southampton - where the city centre is being transformed by the demolition of a largely-vacant shopping centre for a mixed-use development, opening in 2020.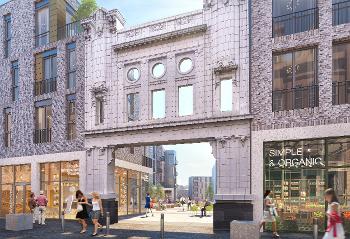 The report presents ideas for what could go on the space currently occupied by the Paisley Centre - including a new residential quarter along a pedestrianised street running from the High Street to New Street with a mixture of retail and food and drink on the ground floor, flats on the upper floors, and new outdoor public spaces.
They suggest this would bring benefits - repopulating the heart of Paisley with new residents, creating new views and routes through the town, and allowing shops to be brought back onto street fronts rather than buried in a block.
If that happened, what would happen to existing tenants in the Paisley Centre and elsewhere?
Again, we have to stress the contents of the Vision are just ideas designed to start a conversation around what is possible. If any plans to demolish or repurpose the Paisley Centre or any other town centre building were developed, the businesses operating from those buildings would be helped to find new premises elsewhere in the town centre or High Street. Support packages would be tailored to the individual circumstances of the business and their preferred space to move to.
Change of the scale imagined in the Vision couldn't happen without some disruption but the hope is it would lead to those businesses operating in a better-balanced town centre with hundreds of new residents, more businesses on the High Street, reduced vacancy rates, and increased footfall.
Why the Paisley Centre? Why not knock down The Piazza and reopen the river?
This a suggestion people often make but it isn't a workable one. Of the town's two shopping centres the Piazza is performing far better. Unlike the Paisley Centre, it is home to much more than shops - it houses car parking, student flats, and offices. These are all things Paisley needs, and the latter two are things the Vision is clear we need more of - there would no sense in knocking them down.
Concreting over the river was a decision made by planners in a different era. While reversing that might sound attractive in theory, the authors of the Vision are clear it is 'not achievable any time soon', thus it is not something we are looking at. The authors focused on the Paisley Centre because they believe the economics of doing something different with that site are viable.
The Vision talks about a cinema in the town centre - what are the plans for this?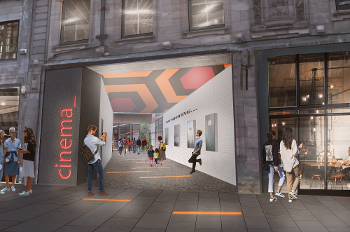 A town centre cinema is one of the ideas envisaged by the authors. As it stands, a local community group - the Paisley Community Trust - are already working on their own plans for a high street cinema. Renfrewshire Council fully supports this idea, which fits with the Vision, and could be one of the first projects to be realised from it. The council has provided funding to the trust to help them develop their business plan. Currently the trust is looking into possible sites and investigating funding options.
The Vision suggests the University or College could move - is this happening?
Both the University of the West of Scotland and West College Scotland were involved at the initial engagement stage of the report, and both have ambitions to upgrade their campuses. All the authors have done is look at what could be possible - there is no commitment from either establishment to progress what is outlined in the Vision at this stage.
What are the next steps?
This is just the beginning. The brief for the project was to look at what could be possible and start a conversation around that with everyone who shares our ambition to change Paisley's future. We want to know what you think of the proposals, and any other ideas you may have. You can do that via our website or in person at our engagement event in the POP space (the old post office) in the Piazza, on Fri 24 (1 to 4.30pm), Sat 25 (9.30am to 4.30pm) and Mon 27 January (9.30am to 3pm).
Almost all the buildings in the town centre are privately-owned - we are keen to engage with the people who own them, as well as with those who are interested in investing here.
Your feedback will help us plan what could come next, and will also help inform a wider piece of work called Future Paisley - the wide-ranging programme of work putting culture at the heart of the area's regeneration - which will include further community engagement programme at a date TBC.
The authors of the Vision focused on what they think might be possible - they have not considered the detail of how it would be delivered. A lot of work will now need to happen to establish which of the ideas suggested in the Vision might be workable. Councillors have given approval for officers to start that feasibility work, and your feedback will help us do that.
If some of these ideas were to happen, who would be involved?
The council cannot on its own deliver change of this scale - private-sector investment will be needed. So if these ideas are to happen, property and land owners will need to deliver them.
The council's role will be as an enabler - to co-ordinate development and make sure any changes benefit the people who live and work here, and complement the wider regeneration of Renfrewshire. Any changes would be subject to the usual statutory consent/planning procedures. The council doesn't intend to buy or own commercial property in the town centre unless there was a specific reason why our involvement could help deliver a key part of the Vision.
We believe Paisley town centre is an attractive place to invest, and the Vision shows the massive potential which exists here. We are keen to hear from investors, developers or other groups who would be interested in helping realise that.