Improving water safety across Renfrewshire
Chris Dalrymple talks about the steps Renfrewshire Council and partners are taking to improve water safety across Renfrewshire.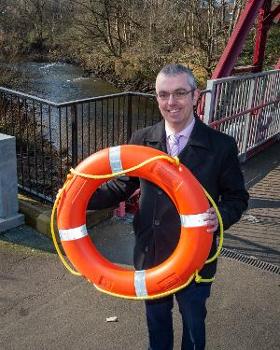 "I've always been incredibly passionate about ensuring our waterways are as safe as they can be, even before I joined Renfrewshire Council, and I want to do all I can to educate this and the next generation about how to stay safe around our rivers."
Chris Dalrymple is our Communities and Regulatory Manager and has been working closely with services throughout the Council, as well as partners from across Renfrewshire, to create our new Water Safety Policy.
---
Water safety issues
It's now been adopted and outlines how we will review and tackle water safety issues; consider the introduction of additional lifesaving equipment; educate the public, especially children and young people, about the dangers of open water; and how we will work with private landowners.
Chris said: "Water safety is something we want to be proactive on wherever we can which is why the new policy sets out how we will approach it over the coming years.
"The sad death of a young boy at the River Gryffe last year is something we never want to experience again and is a key reason why I feel so strongly about the actions within the new policy.
---
What we are doing
"One of the first things we've done following this tragic incident is to create a new Renfrewshire Water Safety Working Group which brings us together with the Civil Contingencies Service, Renfrewshire Leisure, Police Scotland, Scottish Fire and Rescue Service, Scottish Ambulance Service and Open Water Rescue to formalise the ongoing work to improve water safety in Renfrewshire.
"We'll work closely as a partnership to educate young people about the dangers of open water swimming and will deliver presentations to schools, as well as in-person talks with local young people at known spots for open water swimming."
As the key driver of the policy, Chris is determined to install in all council services through his colleagues, the need to consider water safety in all new structures that we build in the area.
---
New water safety equipment and signs
Life-saving equipment forms a big part of the proactive approach we're taking, and GPS signage and lifebelts will be installed soon at the new footbridge across the River Cart in Paisley.
Chris said: "I'm glad to see this life-saving equipment being placed at the site of the new bridge and we want to make this a matter of course at new structures like this in the area.
"The dangers of open water swimming are obvious, but accidents also happen and having the GPS signage and lifebelts could really make the difference in a life-or-death situation.
"Two new lifebelts will be placed on the banks of the river, and this follows the recent implementation of seven new GPS signs at potentially dangerous areas along the River Gryffe - all measures we hope will keep people safe."
---
How this demonstrates our council values
The approach outlined in the new water safety policy ties in directly with the Council's Values, which are that we are fair, helpful, great collaborators and value learning.
Chris: "It's important to me that we get this right as it's a topic that I'm so passionate about, which is why it needs to be a whole-Council approach.
"I'm happy to learn from others about what the best practice would be in any situation and I've worked closely with, and for, Glasgow City Council on this issue to ensure that what we do is the best for Renfrewshire.
"I care about getting things right as I know my colleagues do too, so we'll continue to work together and collaborate on this policy as we look to make our waterways as safe as they can possibly be."
Find out more about water safety in Renfrewshire.