Water safety
What to do if you see a water safety emergency, how we will work with our partners to improve water safety on public and private land and with local communities.
On this page:
---
If you're trying to help during a water safety incident, you must make sure to put your own safety first.
If you witness an incident, you should phone the emergency services on 999 immediately. Wherever we have placed rescue equipment, there will be a prominent notice to contact emergency services.
Each notice will also have a unique Global Positioning System (GPS) code so when you contact emergency services and tell them this code, they will know the exact location to send help.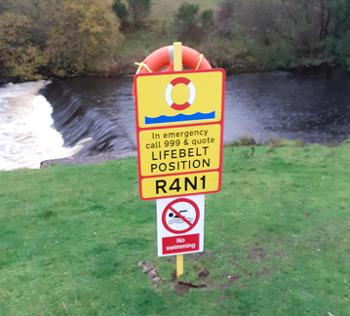 A water safety sign showing the GPS code at the River Gryffe in Bridge of Weir.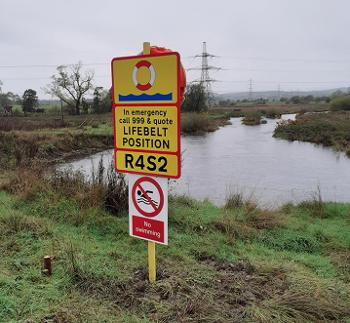 A water safety sign showing the GPS code at the River Gryffe in Linwood.
---
There are many waterways in Renfrewshire. Renfrewshire Council does not own or have responsibility for most of the land around the waterways as it belongs to private landowners.
However, we are working with private landowners, our partners, and the public across Renfrewshire to:
review and tackle potential water safety issues and dangers
reduce accidental and deliberate entry to water by members of the public
reduce incidents across Renfrewshire
regularly assess the risks and hazards in and around waterway areas on public and private land and take measures to reduce or eliminate these risks.
Our water safety measures include:
installing and maintaining life belts at key water areas, particularly on land within Paisley Town Centre around the River Cart and checking them on a weekly basis
adding more public rescue equipment to areas where we know it is a risk
putting poles, signs, and rescue equipment at water ways in parks, and monitoring these waterways to make sure they are safe
identifying hazards in and around waterways and those who may be at risk from them, including the public and our employees
working with Police Scotland to monitor waterways and respond to calls about anti-social or unsafe behaviour at these places
helping schools deliver water safety talks to increase awareness of hazards and safety issues including water safety
supporting our partners to provide water safety training, awareness and skills like cold water shock response, lifesaving, and first aid.
---
There is public rescue equipment, including life belts and throw ropes, at key areas on Council owned and some privately owned land in Renfrewshire. This is to help people attempting to save a life without putting their own life in danger.
We have put public rescue equipment along the River Gryffe at areas where we know young people go swimming. The local community and local angling clubs, who know flows and depths of the river, have also advised us where the dangers and risks are.
There will also be public rescue equipment where:
we know there are recurring incidents of accidental or deliberate entry to water
we can regularly inspect and maintain the equipment so it can be used safely and effectively.
We only put water rescue equipment where we know there are risks to life and recurring instances of deliberate or accidental entry to water.
If you see public equipment that is damaged or missing, let us know by email ei@renfrewshire.gov.uk or call 0300 300 0380 (option 1).
---
Private landowners have a responsibility to take reasonable steps to make their land and property safe.
We support private landowners with their responsibility for water safety. If there are places where there is ongoing danger or continued incidents, we install water safety equipment there. However, the Council does not take responsibility or liability for the equipment being damaged or stolen.
We uphold people's right of responsible access to most land and water in Renfrewshire. However, the responsibility for personal safety is mainly with the individual.
You should not try to access the reservoirs owned by Scottish Water because of the hidden dangers. There is a very high risk of accidents or fatalities that can happen in a reservoir. See the Respect Our Reservoirs campaign on the Scottish Water website.
Stop and think and spot the dangers

Be aware of cold water shock
Keep off all frozen waters
Check for safety signage
Avoid alcohol and drugs
The depth of the water may hide underwater ledges, hidden currents and unseen items
Be aware of other water activities
If it is safe to enter the water, ensure you have a safe way out
At the coast, consider rip currents, wind and the tide

Stay together, stay close

It is better to go near the water with a friend or family member
If you are in trouble in the water, float until you feel calm
Lean back, extend your arms and legs
Float until you can control your breathing. Then call for help or swim to safety

In an emergency, call 999

If you see someone in trouble DO NOT enter the water
Look for a throw line or life ring to help whilst you wait on the emergency services
Call 999 or 112
You can find out more on the Water Safety Scotland website .
---
While our focus is on the prevention of accidental drowning, we are also looking at ways we can prevent suicides across the Renfrewshire area.
Not every piece of land, walkway or bridge can be designed to stop someone attempting to take their own life. But by looking at all the elements of water safety and access, putting the appropriate water safety measure in place may make it harder for someone to take their own life.
We follow the guidance, wherever possible, from the Glasgow Humane Society Architectural Handbook for Safe Waterways (PDF).
The Health and Social Care Partnership (HSCP) Suicide Prevention Team are also helping us highlight potential issues and places of risk.
---
One of the key issues in preventing and reducing incidents is educating the public about water safety, especially children and young people, regarding the dangers of water.
We do this by giving water safety talks in schools with Scottish Fire and Rescue, Scottish Ambulance Services, and the Council - especially in schools where we know there are water safety issues or young people are accessing unsafe water places.
The Scottish Fire and Rescue Service and Renfrewshire Wardens will also talk to young people who continue to swim in rivers or unsafe waterways and advise them of dangers. This will be an informal approach but will highlight the risks of swimming or playing in unsafe areas in Renfrewshire.
We also work with Police Scotland, the Civil Contingencies Service, Open Water Rescue, Renfrewshire Leisure, the Health and Social Care Partnership (HSCP) Suicide Prevention Team and local communities and schools to inform and advise the public on water safety.
Contact the Police on 101 if you have any concerns about access to unsafe waterways or antisocial behaviour.
Education video for young people
To mark the anniversary of the death of William McNally, who got into difficulties swimming in the River Gryffe, we have worked with William's aunts, Jayne and Claire Drennan, to create this education video for young people. In the video, Jayne and Claire talk openly about the impact William's death had on their family and urge young people to know the dangers of swimming in rivers and other open waterways.
This video includes content that some viewers may find distressing.
---
You can find out more about:
Scotland's drowning prevention strategy on the Water Safety Scotland website
Water safety - know the risks on the Scottish Water website.
If you would like a copy of our water safety policy, you can email us at ei@renfrewshire.gov.uk or call us at 0300 300 0380 (option 1).