Paisley Halloween Festival - behind the scenes with our events team
Now we're into October we are almost at the biggest date in our annual events calendar...Paisley Halloween Festival!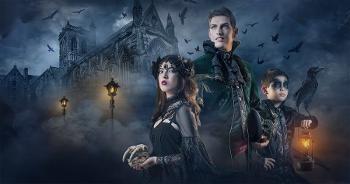 Paisley has become Scotland's home of Halloween in recent years, with the award-winning event growing to be one of the biggest and best of its kind in the UK, attracting thousands of visitors.
This year's event is on from Thursday 26 until Saturday 28 October from 5 until 9pm each night, and includes a new and improved event format which will see the fun split over two zones:
a Halloween Trail Zone full of spectacular installations set against the backdrop of Paisley's historic Abbey, as a one-way system, with a queue to access it
a Live Performance Zone with street performers including festival favourites Spark! LED Drummers and the flame-throwing Pyro-Celtica
The free-to-attend festival is run by the Events Team in our Communications, Marketing and Events service, and involves a huge amount of planning from colleagues across the organisation.
We caught up with some of our events team colleagues for the lowdown on what it takes to put this huge, ever-popular event together:

Catherine Horsburgh An event on the scale of Halloween takes loads of planning. How far in advance does that start?
Catherine: "Planning for Halloween takes the best part of a year. For example, I booked some of the acts for Halloween 2023 the day after Halloween 2022 finished.
"A huge amount needs to be in place to make sure a big outdoor event with thousands of people each night is managed smoothly. That includes robust health and safety and crowd management measures, staffing, toilets, signage, and much more."
There are lots of teams in the council and elsewhere who help deliver our events. Who are they all and what do they do?
Catherine: "We work very closely with our marketing and communications team to help promote the event and make sure people know what to expect - which has been really important this year as we're introducing the one-way and queuing systems for the first time.
"But there are loads of other colleagues we couldn't deliver the event without - such as health and safety, roads, Streetscene, licencing and civil contingencies to name a few. I am not sure any department escapes Halloween planning!
"There's also a big list of external partners - including the emergency services, first aid and private ambulance providers, traffic management companies and health and safety consultants.
"We also work with local groups such as the Disability Resource Centre and the Renfrewshire Learning Disability Service to help us design the event site to be accessible and enjoyable for everyone."
A key part of the event is the community involvement. What type of groups do you work with and what do they add to the event?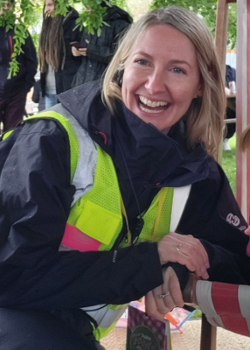 Suzi Maciver Suzi: "We work with many of the area's creative and cultural groups and young people, helping them use Halloween as a platform to showcase their talents.
"This year, look out for a brand-new immersive theatre piece from PACE Youth Theatre based on Edgar Allan Poe's poem The Raven, and a 'Despicable Dance' from right2dance in the style of Wednesday meets Barbie!
"In particular we work with many lesser-heard voices - this year we have everything from Kibble School co-creating set pieces in our Raven's Realm, to Renfrewshire Learning Disability Service groups co-creating props for our spooky Bat Cave.
"The benefits for those groups could be anything from showcasing talents, developing creative skills or doing something for the very first time on your own doorstep - such as dangling off an aerial rig on a Halloween night!
"The community involvement really is the beating heart of this event - their contribution and participation are what make this event feel so unique to our place."
The theme of this year's event is 'gothic Halloween'. How do you bring that concept to life?
Suzi: "The creative opportunities around Halloween are endless, and the process of generating ideas is so much fun for us. It's important the festival is rooted in our place - this year we were inspired by the gorgeous gothic architecture of Paisley Abbey.
"Once we've settled on our theme, we share this with the fantastic creative partners and artists who come on board each year, and they use it to develop the festival's installations, performances and spooky site décor. So, this year, think flying vampires, bat caves, and red-eyed ravens!"
Thanks to Catherine and Suzi for letting us peek behind the curtain at this major event in the Renfrewshire calendar.
It's thanks to their passion and hard work alongside all the teams that support the preparation and delivery of the event every year, that Paisley's award-winning Halloween Festival has become one of the biggest and best of its kind in the UK.
You can read full event info on the Paisleyis website.
Published on Friday 06 October