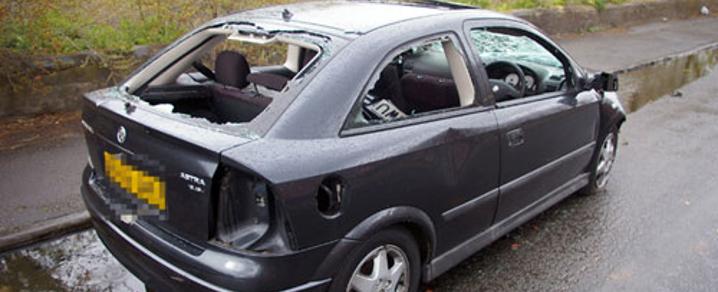 The Removal and Disposal of Vehicles Amendment (Scotland) Regulations 2002 states that a notice period of 24 hours should be given where a vehicle is in such a condition it ought to be destroyed; and the period of vehicle custody by local authorities should be no more than 7 days.
Abandoned vehicles
Signs a vehicle has been abandoned, abandoned vehicle law, how to report an abandoned vehicle.
Abandoned vehicles are unsightly, may be dangerous and may even have been used in a crime.
It's not always easy to tell if a vehicle has been abandoned. Make sure that you do not enter or touch the vehicle. If it has been involved in a crime, the vehicle will need to be investigated by the police. It may also contain hazardous waste or could be a fire risk.
---
Signs a vehicle has been abandoned
There are a number of signs to look for including:
flat tyres or removed wheels;
litter or leaves under the vehicle (this may mean that it hasn't moved for some time);
smashed windscreen or other windows;
missing number plates;
the vehicle contain items of waste such as tyres, old newspapers or general rubbish;
vehicle parts, like the bumper, seats or radio, have been removed or damaged;
graffiti on the vehicle; or
wires hanging from the dashboard because the vehicle has been 'hot-wired' (driven without keys by connecting ignition wires together).
---
How to report an abandoned vehicle
If the vehicle shows signs of being abandoned, please follow these steps before you contact us:
If the car is causing an obstruction, report this to Police Scotland on 101.
check if the vehicle is taxed on the DVLA website. If it's not taxed, report the untaxed vehicle to the DVLA. Some historical vehicles may be exempt from road tax. An untaxed vehicle may not automatically be assumed to be abandoned.
Check with your neighbours or local businesses to see if anyone knows the registered keeper of the vehicle.
If the vehicle is not be taxed or no one claims ownership, report the vehicle as abandoned
We will attempt to locate the registered keeper, but if none is found, the vehicle may be removed.
There is a storage charge for vehicles removed and stored by the Council.
---
Abandoned vehicle law
The law governing the removal of vehicles is contained in the:
Road Traffic Regulation Act 1984;
Refuse Disposal (Amenity) Act 1978; and
Removal and Disposal of Vehicle Regulations 1986.
The police have the power to remove immediately any vehicle which is left in breach of local traffic regulation orders, or is causing an obstruction or is likely to cause a danger.
Any vehicles that are clearly abandoned become the responsibility of the local authority in which the vehicles are located.