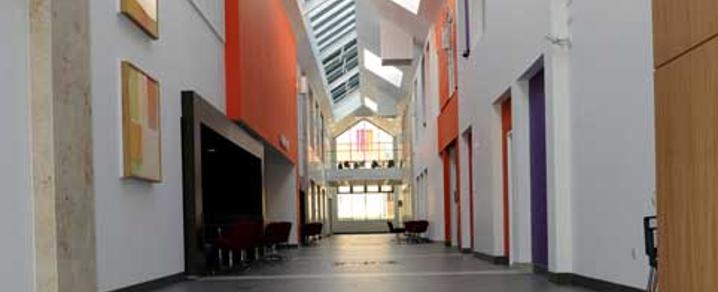 Johnstone Town Hall
The completed regeneration project for Johnstone Town Hall, what facilities and services are there, how your community is making the most of the town hall.
The new Johnstone Town Hall
The new £14.5m Johnstone Town Hall has transformed the look of the town centre.
The building was taken forward by Renfrewshire Council as part of its efforts to help the regeneration of Johnstone.
The new Town Hall is home to range of modern community facilities including Johnstone library, a theatre space, ceremony suite, conference space, a coffee shop and meeting spaces.
The building also offers a cluster of council services under one roof, including a customer service centre housing, social work and AdviceWorks.
Plus, our partners Police Scotland and Macmillan Cancer Support are also based in the building.
Latest updates
The council housing and social work offices have now moved from their former home in Floorsburn House to the new town hall. The former library and registry office have also now relocated to the building.
Bookings for big and small functions are now being taken in the town hall. For more information, please contact 0300 300 1210 or email eventhires@renfrewshire.gov.uk
It's your town hall
The town hall was shaped by consultation with Johnstone residents, businesses, community and youth groups to ensure it meets the needs of the community for generations to come.
Work has included major improvements to the area around the building, with new lighting, paving, planting and street furniture.
Renfrewshire Council has also been keen to see the building project benefit the local area as much as possible.
A community benefits programme saw 14 people receive an employment opportunity, while 19 per cent of work packages were awarded to Renfrewshire businesses.
The programme has also seen activity days with local schools, work with West College Scotland and the University of the West of Scotland, sponsorship of Johnstone Burgh FC and support for St Vincent's Hospice.
Artwork in the building has also been developed in partnership with local community groups.