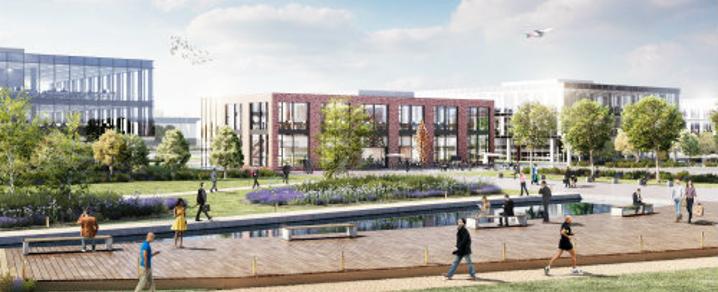 Glasgow Airport Investment Area
We delivered the Glasgow Airport Investment Area project - creating the connections and infrastructure underpinning development of Scotland's manufacturing innovation district.
It included new roads, bridges, cycling routes and pedestrian footpaths, improving access to the Advanced Manufacturing Innovation District Scotland (AMIDS) and to nearby Westway and Inchinnan Business Parks.
AMIDS is a collaborative project led by Renfrewshire Council to develop Scotland's home of manufacturing innovation. It has attracted the world's largest aerospace company Boeing, the National Manufacturing Institute Scotland (NMIS) and the Medicines Manufacturing Innovation Centre.
Airport Investment Area infrastructure
A new road called Netherton Avenue has been built to create a route through Netherton, with accompanying routes for pedestrians and cyclists.

The Barnwell Street bridge, a two-lane road bridge on Barnwell Street across the White Cart river between Wright Street (Renfrew) and Arran Avenue (Paisley) connecting commercial traffic into AMIDS, Glasgow Airport and the motorway network, with a shared pavement for pedestrians and cyclists. The route has no through route for vehicles onto Wright Street.

A pedestrian and cycle bridge over the Black Cart river, connecting Netherton Avenue and Inchinnan Road (Renfrew) to Greenock Road (Inchinnan).

New and improved junctions and connections to cycling and pedestrian routes.
Get in touch
Contact us by email to citydeal@renfrewshire.gov.uk.