This personal story was published in November 2018.
Tommy and Liz: I changed careers with my wife to become a co-foster carer
Tommy Crain joined his wife Liz in switching careers and he's never looked back.
When Tommy Crain say how much his wife loved her work as a foster career after switching from her role as an auxiliary maternity nurse, he decided to make it a joint effort.
Six months after Liz became a registered foster carer with Renfrewshire Council, the former warehouse and transport manager followed in her footsteps to become a co-carer.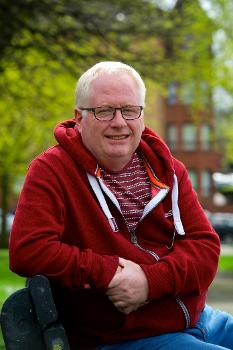 Tommy, 57, said: "We've never looked back, in fact I often say to Liz that I wish we'd done it ten years earlier. We've had around 16 children in our care since we started in 2011. "
Placements can range from a few days or weeks to years and the couple from Paisley, who have four grandchildren, have space for two children and a baby.
They are currently caring for a teenage girl who's been with them for four and a half years, as well as another child for one night a week as she returns in stages to live with her mother.
Tommy said: "The girl who's been with us long term is almost 16 and will be living with us now as long as she likes. It's not adoption but is the next best thing if you like."
The couple's first child was a newborn baby boy who ended up staying with them for two and a half years before being adopted by a family in a different area.
Tommy said: "He came to us to us at nine days old straight from hospital and we had him until he was two years and eight months when he was adopted.
"There was a bond there but we knew it was best for his health and welfare.
"It's actually rewarding because you know he is going to the best place for him. We have had sporadic contact and have been to see him twice in his new home and it's wonderful to see him settled and happy.
"We did consider adopting him ourselves but we are in our fifties and have family ties to Paisley and he had to be placed outside the area so we knew it was best for everyone.
"People always say they could never do our job because couldn't give the children back but you have to step back and reflect on what's best for them. Seeing them thrive and get the same opportunities as every other child is the greatest reward."
Tommy says that another common misconception can be that if children, especially the older ones, need foster care that it must somehow be their fault.
He said: "Every child is different and of course some can present challenges but that's just not the case. Generally they are there because of someone else's issues. Don't prejudge and be prepared for a great experience."
The couple have their own social worker and there is also advice from a Family Support Worker who visits every four to six weeks.
Tommy said: "The support is constantly there if you need it. It's also absolutely a career. You do have to be aware of things like you give up a big part of your social life as there are only certain other people who can care for the children in your absence and that you can't just decide to go on holiday at the spur of the moment.
"You do have to make some sacrifices but we've never looked back."
---