This personal story was published in November 2018.
Agnes: I'm giving young children a better start in life
Agnes Rorrison helps young children recover from being born addicts
Many of the babies foster carer Agnes Rorrison (CORR) looks after have had the worst imaginable start in life as the children of drug addicted mothers.
But Agnes says that being able to care for the children is a privilege and seeing them recover is one of the most rewarding aspects of the job.
She looks after children from newborns up to age eight and several that she's cared for have been born with neonatal abstinence syndrome. Withdrawal symptoms can vary from mild to severe and can last from one week to three months.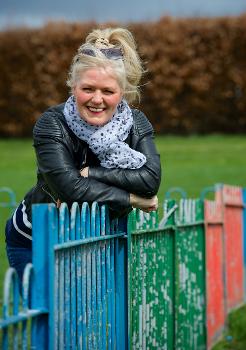 Agnes said: "They are born addicts and they have to be weaned off the drug in hospital. Of course it's heartbreaking but they are amazing and so resilient.
"It's wonderful when you see them come out the other end of it and how they go on to develop."
Agnes often visits the babies who will be in her care in hospital to build a bond before they come to her.
She added: "I'll visit twice a day for a couple of hours and get the baby to hear my voice, bathe them and help with their meds, basically do everything you would do if it was your own baby until it's time to take them home."
Agnes, who has a 13-year-old son, says that it can be difficult when the children move on and added: "It can be a wrench to let them go. It does affect you because you do get attached that's what you're meant to do.
"They are not yours to keep but we've been very fortunate in that with all my wee ones I've built up relationships with mums and we get to see them all and how they are doing. It doesn't happen all the time.
"My first placement was a baby boy who was with me for ten weeks when he was adopted. We still see him as we became very good friends with his mum and dad and we keep in touch."
Agnes says that her experience with Renfrewshire Council has been a positive one where she has had the same social worker in the four years since she started.
She said: "It's been fantastic. The training is unbeatable and the preparation workshops cover everything you would need to know. I felt prepared for anything by the end of it.
"The support is ongoing and there is always somebody at the end of the phone it's just a really good team. There is also a foster carers' support group which is great as we are all in the same kind of situation.
"Sometimes it can be stressful and emotional but at the end of the day it's about the child and it's harder for them. I feel very lucky to do what I do."
---