"Let's Talk" staff wellbeing: Kevin's story
Procurement assistant, Kevin Milliken told us how opening up and talking helped him take control of his wellbeing and mental health.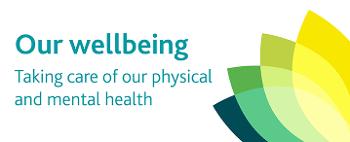 "By the end of 2021, I was feeling worried about my mental health. My feelings of anxiety and low mood were starting to make everyday life more and more challenging.
"When I found the courage to start talking about it, I felt a huge relief. I realised I didn't need to bottle things up and I learned how much a simple conversation can help.
"I normally work for long periods without taking annual leave and I've realised how this can contribute to a feeling of burn-out.
"My time off during the holidays helped me recharge my battery. I really enjoyed relaxing and spending time with my family. It gave me the chance to open up to them about how I was feeling, and I am so glad I did!
"Anxiety can feel different to everyone. For me it is like a friend that lives inside my head. They are there when I struggle to make decisions and I end up relying on them and going with whatever they seem to be telling me. The voice is controlling and causes me stress but it is a hard thing to change because I've lived with it for so long.
"The first step was hearing myself describing how I felt out loud. It helped me reflect and think of ways I can take back control. I was able to start 2022 as the real me - not the controlling voice of my anxiety!
"I've found the confidence I need to make better decisions to support my wellbeing. Getting my work and personal life in balance has been a major change. Small but effective steps like not working too late and taking a proper lunch break are making a big difference. I have even planned my annual leave for the rest of the year!
"For me, tackling anxiety is all about finding that balance and staying in control. I might never banish my negative thoughts completely. But I've learned that is ok, because I can handle them. When they do come chapping, I welcome them in and let them pass through.
"For the year ahead, I have set myself eleven personal goals, some harder than others. I've already achieved a big one by replacing my morning fizzy drink and sweets with a routine that eases me into the day - a cup of ginger green tea, 'Experience' by Ludovico Einaudi playing in the background and ten minutes to set my To Do list.
"I heard an inspirational quote recently that really helped me. I hope by sharing it, it will help others too:
"You are your own problem, but you are also your own solution"
We want to thank Kevin for sharing some of his journey and showing us the power of talking. He has helped bring us one step closer to being a supportive place of work, where there is no stigma around mental health.
Sometimes, all we need is someone to listen. If you need to talk, but are unsure where to turn, our free employee counselling service 'Time To Talk' is there for you 24/7. Visit our online staff wellbeing hub for information on how to access this and other supports.