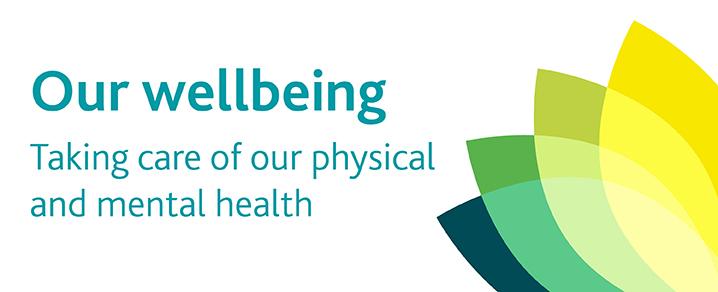 Taking care of our wellbeing
Information and advice to help you take care of your physical and mental wellbeing, where to get help with your mental health, financial advice and coronavirus.
---
Your physical health has a big impact on how you are feeling emotionally and mentally. At times like these, it can be easy to fall into unhealthy patterns of behaviour which in turn can make you feel worse.
Try to:
eat healthy, well-balanced meals
drink enough water
exercise
get outside at least once a day
Renfrewshire Leisure has lots of resources online to help keep you fit and healthy. Visit the Renfrewshire Leisure website for ideas and activities for wellbeing and fitness at home.
---
Looking after your mental wellbeing is as important as your physical wellbeing.
With many of us working from home or delivering essential services across our communities, it's more important than ever that that we look after ourselves and each other, while we continue to provide vital services to the most vulnerable.
We want to support you with taking care of your mental health. Looking after your mental health has always been important, however this past year has brought the need to focus on our mental wellbeing to the fore as many of us have faced new and unprecedented challenges at home and at work.
Read Five ways to support your wellbeing by connecting with nature by Diane Connor, Senior Health and Safety Officer and our wellbeing programme lead.
Studies have shown the significant positive impact that getting close to nature can have on our mental health. This has never been more obvious than over this past year when many of us have reconnected with nature to help us cope with the pandemic. Whether it's simply been getting out for more walks, spending time in our gardens or visiting our many local beauty spots.
Here in Renfrewshire we have many wonderful outdoor places you can visit to help you reconnect with nature. From Clyde Muirsheil Regional Park, Castle Semple, The Gleniffer Braes Country Park to Boden Boo and Erskine Beach amongst many others, there's no shortage of options. Visit the paisley.is website for lots of great ideas and information on exploring the great outdoors in Renfrewshire.
---
Time for Talking is our employee counselling service. It is available 24 hours a day, seven days a week, with free, confidential support from professional counsellors.
The counselling service is currently available by telephone or Skype. You can find out more about it on the Time for Talking website or call 0800 970 3980 for free support now.
You can call Occupational Health on 0141 212 6970 for any general enquiries including those related to coronavirus (COVID-19), to find out what support is available to help you at work and for referrals.
---
Many organisations offer excellent free resources online to help support good mental health both at home and in the workplace.
There's lots of information and support on the MFH website including:
The Scottish Government's Clear Your Head campaign provides advice and resources to help us cope with the impact of coronavirus on our mental wellbeing.
As restrictions ease and more places open up, it's only natural to feel anxious or nervous. Clear Your Head have lots of advice on their website for how to feel better as things get busier.
Whether you're living with a mental health problem or supporting someone who is, accessing information about a condition is vital. SAMH has developed a series of information resources for you.
The online SAMH information service provides a range of mental health support and information on everything from mental health conditions, self-help and wellbeing, helping someone else, suicide prevention and more.
You can try their Wellbeing assessment tool 'how is your wellbeing today?' to help you monitor your mental health and recognise when you might need support.
They also have some great advice and ideas that are particularly useful for line-managers on how you can help support your colleagues' mental health at work. Visit the workplace wellbeing page for more information and to access the SAMH Wellbeing Assessment Tool.
See Me Scotland are on a mission to end mental health discrimination and help people cope with the impacts of mental health and learn to support others.
A key focus is on improving mental health in the workplace and they offer resources and advice to encourage employers to think about how they can continue to support employees to have open conversations about their mental health and access the help they need.
The Let's Chat tool can help line managers and supervisors to prepare and build their confidence to open and have these conversations and know where to signpost for support.
Visit their workplace webpages online to find out more.
Mind have resources on their website to help support your mental health, including free wellbeing action plan templates with easy, practical way of helping you to support your own mental health at work or working from home.
We recommend you download the guide for employees and complete your own personal wellbeing action plan.
There is also a guide for line managers to help you encourage your staff to complete their wellbeing action plans and support them with their ongoing wellbeing needs.
You can find information and support about coronavirus and your mental health on the Mind charity website.
Stay up to date about coronavirus
Stay up to date about coronavirus by getting your information from reputable sources including:
You can also read staff updates on our Renfrewshire Council Facebook page, at @RenCouncil on Twitter and our staff section about coronavirus.
---
If you work at the council and you also are an unpaid carer for someone, there is lots of support available for you at work and from local and national organisations.
Find out more about Carers Week (Monday 7 to Friday 11 June 2021)
---
Your financial wellbeing is important, as well as your physical and mental wellbeing.
Money worries can have a real impact on people's lives and a detrimental effect on your mental health and wellbeing.
Our Advice Works service and Renfrewshire Citizens Advice Bureau can help you if:
you or a member of your family is in receipt of benefits, such as child benefit, universal credit or tax credits
you are entitled to benefits but don't know how to go about claiming
Money Advice Scotland also offers free and impartial money advice on:
how to improve your finances
tools and calculators to help keep track and plan ahead
support over the phone and online
Look for the iLearn module on financial wellbeing to learn about:
how to create an effective budget
the importance of picking the right bank account for your financial needs
how you can save money by cutting costs and shopping smarter
See our financial support during coronavirus page for more help.
---
View the guidance on what to do if you or a close contact develops symptoms of COVID-19.
If you're a manager, contact the Human Resources coronavirus (COVID-19) helpline immediately if someone in your team tests positive for coronavirus (COVID-19).
See a list of emergency contacts for emergency council services, national emergency contacts and mental health emergencies.
If you need essential assistance, such as collecting food and medicine and you may be at increased risk from coronavirus (COVID-19), call our Renfrewshire Council COVID-19 Response Team on 0300 300 0230. There are also other local community groups that can help during coronavirus.
The latest service information and guidance is also available our recorded phone line at 0300 300 0333.