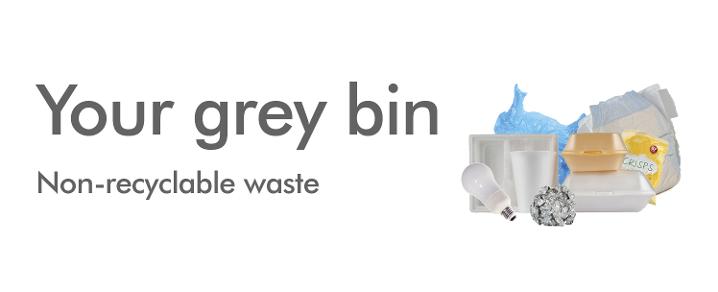 Coronavirus (COVID-19) waste
If you are sick or are self-isolating, you should take extra precautions when disposing of your waste.
Any used tissues or cleaning supplies should be placed into a separate bag from all other waste and double bagged. This should then be kept separate from other waste for 72 hours before presenting the waste for uplift.
Your grey bin
Here's an indicative list of what can and cannot go in your grey bin.
✔ Non-recyclable waste
✔ Plastic bags and polythene
✔ Polystyrene
✔ Crisp and sweet wrappers
✔ Used tissues and paper towels
✔ Cling film
✔ Tinfoil
✔ Lightbulbs
✔ Pet litter
✔ Nappies
✔ Personal hygiene products
✔ Food and drinks pouches
✔ Hard plastics (toys, coat hangers, CD cases etc.)
✔ Padded envelopes

✘ Plastics, cans and glass
✘ Paper, card and cardboard
✘ Food waste
✘ Garden waste
✘ Electrical items
✘ Textiles and shoes