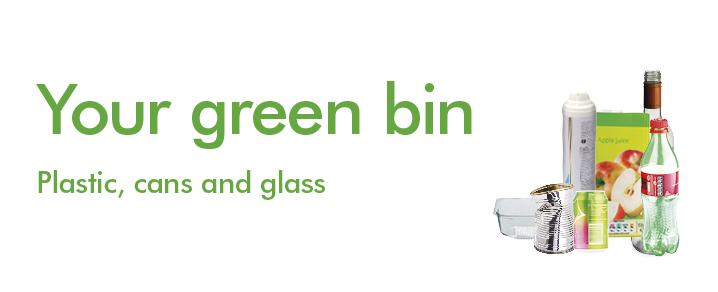 Your green bin
Your green bin will be for plastic, cans and glass.
When you receive your new green bin write your property number on the sticker and start using it straight away to recycle your plastics, cans and glass.
Here's an indicative list of what can and cannot go into your green bin.
✔ Plastic bottles
✔ Plastic pots, tubs and trays
✔ Fruit and vegetable punnets
✔ Clean takeaway containers
✔ Cleaning product bottles
✔ Drinks cans (empty and rinsed)
✔ Food/pet food tins (empty and rinsed)
✔ Biscuit/sweet tins
✔ Aerosols
✔ Glass bottles and jars
✔ Cartons
✔ Milk cartons
✘ Paper, card and cardboard
✘ Food residue
✘ Carrier bags
✘ Sweet and crisp wrappers
✘ Plastic wrapping and bubble wrap
✘ Polystyrene Food and drink pouches
✘ Hard plastics (toys, coat hangers, CD case etc)
✘ Food and drink pouches
✘ Light bulbs
✘ Pyrex or crockery
✘ Mirrors
✘ Tinfoil