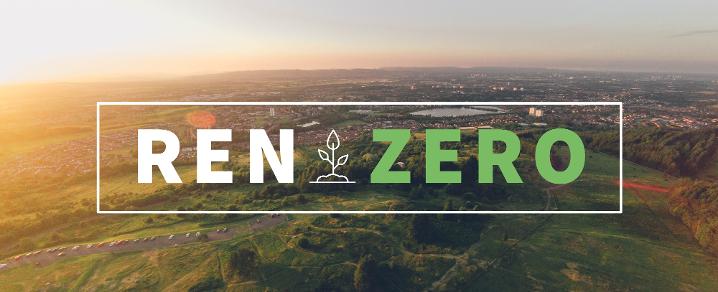 Climate change action to make Renfrewshire net zero
Background to Net Zero, Planning and Climate Change Policy Board, the Edinburgh Declaration, our plan for net zero, Renfrewshire Climate Panel, support the Ren Zero campaign.
Background
The Scottish Government are transitioning to 'a net-zero emissions Scotland for the benefit of our environment, our people, and our prosperity.'
The world-leading climate change legislation in Scotland sets a target date for 2030 for a 75% reduction in greenhouse gas emissions and net-zero emissions of all greenhouse gases by 2045 - with the aim of ending our contribution to climate change, definitively, within one generation.
In June 2019, there was cross-party support for a council motion which declared a climate emergency in Renfrewshire and a working group was set up with members of all political parties to make recommendations on how to make Renfrewshire net zero by 2030. - now formalised in our Planning and Climate Change Policy Board.
---
Planning and Climate Change Policy Board
Decision around climate change are taken at the Planning and Climate Change Policy Board, with meetings take place every 2-3 months.
Previously, a Climate Change Sub-Committee was in place made up of cross-party elected members who worked closely with officers to steer the direction of our response to the climate emergency.
---
The Edinburgh Declaration
The Edinburgh Biodiversity Declaration is an international agreement to ensure action is taken at all levels to protect biodiversity and has been led and supported by the Scottish Government.
We have signed up to the declaration in Renfrewshire and recognise our duty to protect and enhance biodiversity.
Read more about it here - Edinburgh Declaration.
---
Renfrewshire's plan for net zero
Our Plan for Net Zero sets out the strategic framework required to work towards our ambitious climate change targets in Renfrewshire.
It outlines the reasoning, research, themes, actions and next steps required as we work towards becoming net zero by 2030.
As a Council, we are taking a leadership approach, working across our Council services, and with our local businesses, stakeholders and the local community, to make the radical, but essential, changes needed.
Read our summary of the Plan for Net Zero.
---
Renfrewshire Climate Panel
We want to engage with the local community on green issues and use the knowledge and enthusiasm of local people to shape our response to the climate emergency.
We have recruited a cross-section of the local community to form the Renfrewshire Climate Panel and they help us make decisions, ensure that our strategy is the right one for Renfrewshire, and are the driving force locally of our climate change ambitions.
Recruitment took place via a Climate Change Survey issued to residents in August 2021 and the first meeting took place in November 2021. The group has continued to meet regularly to receive updates on the ongoing work and to help shape future decision-making.
---
Biodiversity
We are creating wildlife-friendly environments as part of the Council's ambitious commitment for Renfrewshire to work towards net zero by 2030.
The first eight areas to be transformed, as agreed by the ILE Board were in Linwood, Erskine, Johnstone, Inchinnan, Lochwinnoch and Paisley and the projects included roadside wildflower corridors, wildflower areas and new native tree planting.
Take a look at our current biodiversity projects in Renfrewshire.
You can see details on each project below by clicking on the picture and scrolling down.
We will continue to engage with communities on further biodiversity areas throughout Renfrewshire.
---
Support the Ren Zero campaign
To reach the area's ambitious goal of becoming net zero by 2030, we will need to take a collaborative approach with communities, businesses, partners and organisations all working with us to make the radical, but essential, changes required.
So, please show your support for the campaign by using our brand toolkit.
You can request logos, an event poster advertising, a supporter poster, a PowerPoint presentation template, and more by contacting our Climate Change team.
We're always looking for more community members, businesses, groups and organisations to be champions for the campaign and share best practice so please get in touch and be part of Ren Zero.
---
COP26
COP26 was the 26th UN Climate Change Conference of the Parties (COP26) and was held in Glasgow from 31 October to 12 November 2021.
The summit brought parties together to accelerate action towards the goals of the Paris Agreement and the UN Framework Convention on Climate Change.
The Paris Agreement of 2015, which 196 countries signed, committed to holding the increase in the earth's temperature to well below 2 degrees and to pursue efforts to limit the temperature increase to 1.5 degrees. It was hailed as equitable and ambitious, with each country doing its share to meet the 2 degrees goal
The COP26 Glasgow Climate Pact
Climate justice is critical: Those who have contributed least to climate change are being impacted most. COP26 agreed increased support for developing countries to help investment in green technology and also for adaptation to the impacts of climate change. The Scottish Government was described as breaking 'the taboo' around direct financing for less developed countries facing climate consequences they did little to cause, becoming the first country pledging funding for loss and damage.

Acceleration of target dates: There was agreement for all countries to revisit and strengthen their current emissions targets for 2030 by the end of 2022 in order to limit dangerous warming; and a pledge to halt and reverse deforestation and land degradation by 2030
Annual reporting needed: 2030 is only 8 years away, so annual reporting was agreed for more accountability and to monitor progress closely to keep agreements on track
And a huge shift: The Glasgow Agreement from COP26 is the first time fossil fuels have been explicitly mentioned in a UN climate agreement. The Paris Agreement didn't specifically mention oil, coal, gas or fossil fuels. The Glasgow Agreement signals shifting away from fossil fuels, with phase down of coal and phase out of fossil fuel subsidies.
In addition, 5 key goals on clean energy have been dubbed the 'Glasgow breakthroughs' and cover more than 50% of global emissions.
These are:
making clean power the most affordable and reliable option;
zero emission vehicles to be accessible and affordable in all regions;
near zero emission steel production;
affordable renewable and low carbon hydrogen to be globally available
climate resilient, sustainable agriculture to be the most attractive and widely adopted option for farmers everywhere
We worked closely with our colleagues at Glasgow City Council and in the Glasgow City Region to support the summit and will continue to ensure Renfrewshire is represented wherever possible to ensure that we can feel the benefits of having had an international event so close to home.
Here's where you can read about what was agreed at COP26.