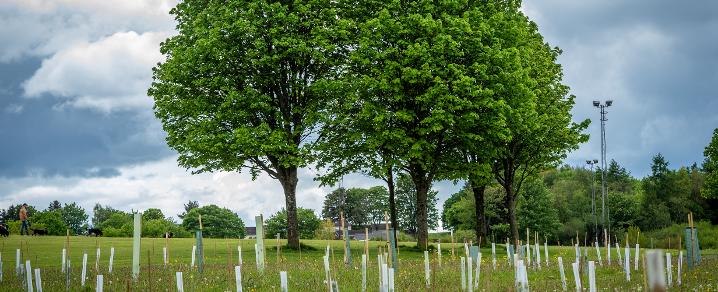 Climate Change projects to make Renfrewshire net zero
We're striving to make Renfrewshire carbon-neutral by 2030. But we need your support.
As a Council, climate change is considered in every decision we take and we are reducing our carbon emissions at every opportunity.
To make real change though, we need our businesses and our communities to make the same commitment as research shows the Council contributes only 3-4% of Renfrewshire's overall emissions.
Small changes can make a big difference.
What we are doing:
---
The Scottish Government are transitioning to 'a net-zero emissions Scotland for the benefit of our environment, our people, and our prosperity.'
The world-leading climate change legislation in Scotland sets a target date for 2030 for a 75% reduction in greenhouse gas emissions and net-zero emissions of all greenhouse gases by 2045 - with the aim of ending our contribution to climate change, definitively, within one generation.
In June 2019, there was cross-party support for a council motion which declared a climate emergency in Renfrewshire and a working group was set up with members of all political parties to make recommendations on how to make Renfrewshire carbon neutral by 2030.
---
Our Climate Change Sub-Committee is made up of cross-party elected members and works closely with officers to steer the direction of our response to the climate emergency.
The group meets every two to three months and helps officers drive the changes that we need to make as a council and as an area.
---
We've committed £1million to the Climate Change Action Fund to support innovative projects and initiatives being developed by Council services in response to the climate emergency.
It provides initial funding to pilot new ideas and approaches, to support engagement and partnership working across Renfrewshire, and to accelerate the pace of change already being delivered through existing initiatives.
So far, we're supporting the following projects:
Electric vehicle programme (£258,000)
Several electric vans will be purchased to allow the service to consider options for introducing these across the rest of the fleet, with the opportunity to unlock further external funding and to inform the future vehicle replacement programme at potentially a faster pace.
This is the single largest vehicle category within our fleet and if electrified would significantly reduce our carbon emissions while delivering frontline services
Housing led Regeneration and Renewal Programme - Zero Energy Buildings (£75,000)
We're developing a collaborative and innovative partnership with a research organisation to design and deliver a social housing new build development within our Regeneration and Renewal Programme.
The project aims to meet our climate change commitments, through delivering homes that are zero carbon, sustainable for our tenants and the environment and reduce fuel poverty.
Active Travel (£75,000)
We want to make travelling on foot or bike an attractive and available proposition for people in Renfrewshire. Initial funding (£25,000) will identify gaps in the network and follow up funding (£50,000) for will support feasibility studies for identified interventions.
Town Centres climate resilience programme (£75,000)
With some degree of climate expected, this funding will support improvements to town centres to provide appropriate shelter during hot weather or heavy rain.
£25,000 to support overall analysis of measures and opportunities and £50,000 for follow-on specific feasibility development of interventions
Research the carbon element of Renfrewshire's plan for net-zero (£50,000)
Funding for technical expertise to measure the impact of interventions outlined in our plan for net zero. Aims to identify the areas to accelerate, where to focus resources and the impact on carbon emissions any change would have. Also to identify potential opportunities for external funding.
Community Food Growing (£50,000)
A pilot of a large-scale community food growing initiative in Johnstone. Alongside bringing land back into use, the aim of the project would be to maximise the availability of locally available and fresh food to people experiencing financial insecurity and/or health and wellbeing issues.
Feasibility study - photovoltaic project (£30,000)
Our Energy Management Unit (EMU) has identified an opportunity to deliver large-scale renewable electricity from Photovoltaic Panels (PV) the former landfill site at Moss Road in Linwood.
Renfrewshire Climate Panel and Business Survey (£20,000)
Funding to recruit a representative sample of Renfrewshire's population to form the Renfrewshire Climate Panel who will feed into the decision making of council officers and elected members.
Funding will also support carrying out a survey with local businesses through the Renfrewshire Chamber of Commerce which will focus on the climate emergency, green recovery, circular economy and opportunities for green investment and new green jobs.
Peatland restoration (£10,000)
To support an initial feasibility study into restoration of peatland in Renfrewshire. This will ensure we are well positioned to bid for external funding from a national programme, Peatland ACTION, which has £250m to invest over the next 10 years.
Programme governance (£125,000)
To support the delivery of the programme, a climate change lead officer will be appointed for a fixed-term of two years, with the funding also providing bespoke training and development for staff around new green technologies and innovations.
---
The Edinburgh Biodiversity Declaration is an international agreement to ensure action is taken at all levels to protect biodiversity and has been led and supported by the Scottish Government.
We have signed up to the declaration in Renfrewshire and recognise our duty to protect and enhance biodiversity.
Read more about it here - Edinburgh Declaration.
---
Our climate plan will set out the strategic framework required to meet our ambitious climate change targets in Renfrewshire.
It will outline the key plans, policies and activities and provide the direction we need to become carbon-neutral.
Using expert research, we will identify the immediate, medium-term and long-term risks, as well as setting out the actions required to mitigate them.
It will set out how we will collaborate across the council, with local businesses and organisations and with the local community, and how we will equip and support all our partners and stakeholders to play their part in our action against climate change.
The plan will be worked on throughout 2021 and will be presented to elected members at the Leadership Board on completion.
---
We want to engage with the local community on green issues and use the knowledge and enthusiasm of local people to shape our response to the climate emergency.
We are recruiting a cross-section of the local community to form the Renfrewshire Climate Panel to help us make decisions, ensure that our strategy is the right one for Renfrewshire, and to be the driving force locally of our climate change ambitions.
Recruitment is taking place via the Climate Change Survey issued to residents in August 2021.
---
COP26 is the 26th UN Climate Change Conference of the Parties (COP26) and will be held in Glasgow from 31 October to 12 November 2021.
The summit will bring parties together to accelerate action towards the goals of the Paris Agreement and the UN Framework Convention on Climate Change.
The goals of the summit are to:
Secure global net zero by mid-century and keep 1.5 degrees within reach

Countries are being asked to come forward with ambitious 2030 emissions reductions targets that align with reaching net zero by the middle of the century.

Adapt to protect communities and natural habitats

The climate is already changing and it will continue to change even as we reduce emissions, with devastating effects.

Mobilise finance

To deliver on our first two goals, developed countries must make good on their promise to mobilise at least $100bn in climate finance per year by 2020.

Work together to deliver

We can only rise to the challenges of the climate crisis by working together.
We will be working closely with our colleagues at Glasgow City Council and in the Glasgow City Region to support the summit and will ensure Renfrewshire is represented wherever possible to ensure that we can feel the benefits of having an international event so close to home.
Read more - COP26 Explained.
---
Let's do Net Zero
The Scottish Government's campaign to support the aim of Scotland becoming net zero by 2045.
It outlines how you can make changes in your life at home and on the go to help achieve this goal, including active travel, eating greener, electric vehicles, home energy and recycling, and what's happening nationally.
Find out more about Let's do Net Zero
Climate Ready Clyde
A cross-sector initiative funded by the Scottish Government and 15 member organisations, including Renfrewshire Council, to create a shared vision, strategy and action plan for an adapting Glasgow City Region.
The campaign aims to create the conditions for a regional transformation, building our collective evidence base and capacity, and has the produced Glasgow City Region's first Adaptation Strategy and Action Plan to make it happen
Find out more about Climate Ready Clyde
Get Ready Glasgow
This campaign outlines all the communication and engagement work being carried out to keep the city moving and open for business in the lead up to and during the COP26 conference, as well as what measures will be put in place to protect citizens and the participants in COP26.
You can register on the site for email updates and newsletters, as well as make specific inquiries.
Find out more about Get Ready Glasgow
Adaptation Scotland
Adaptation Scotland provides advice and support to help Scotland be prepared and resilient to the effects of climate change.
They help public sector, businesses and communities to understand what climate change will mean across Scotland, and identify the best way for you to plan for the impact - taking the opportunities and preparing for the risks.
Find out more about Adaptation Scotland
Keep Scotland Beautiful
The national environmental charity supports you to understand and take action to combat climate change, including facilitating the Climate Challenge Fund and Community Climate Asset Fund.
Find out more about Keep Scotland Beautiful
Zero Waste Scotland
Zero Waste Scotland have set out a new five-step plan to show the public, private and third sector how to build back better after coronavirus and meet our joint obligations on ending the climate crisis at the same time.
Find out more about Zero Waste Scotland
Nature Scot
The lead public body responsible for advising Scottish Ministers on all matters relating to the natural heritage, including climate change and biodiversity, with their purpose being to:
promote, care for and improve our natural heritage
help people to enjoy nature responsibly
enable greater understanding and awareness of nature
promote the sustainable use of Scotland's natural heritage
Find out more about Nature Scot