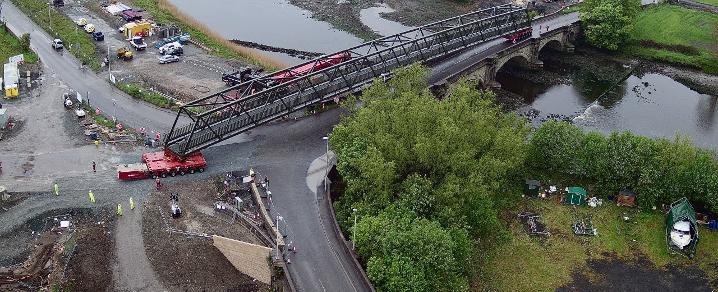 Watch as new pedestrian and cycle bridge is installed over the Black Cart river
A new pedestrian and cycle bridge was installed over the Black Cart river on Sunday night.
The 160-tonne, 100-metre-long steel structure was moved into position then lifted into place by two cranes, the final part of the process taking place overnight when no flights were scheduled due to the close proximity of the airport runway.
The Glasgow Airport Investment Area site contractor is now taking forward works to prepare the bridge for public use, including building a permanent bridge deck and approaches to connect it into a new road layout being completed at the junction of the A8 Greenock Road, Abbotsinch Road and Inchinnan Road.
When it opens to the public later this year, the new bridge will enhance cycling and walking connections between Inchinnan, Renfrew and Paisley and improve active travel at Scotland's manufacturing innovation district AMIDS.
Published on Tuesday 25 May 2021