Dargavel Primary School
Information about Dargavel Primary school, including location and head teacher, school capacity, and how to contact the school.
On this page:
---
Dargavel Primary School is on Arrochar Drive in Dargavel Village, Bishopton.
The head teacher is Gerry Carlton.
The associated secondary school is Park Mains High School.
---
Dargavel Primary School opened in January 2022.
The school has capacity for all children entitled to a primary place in the current school year (August 2023 to June 2024).
We expect to have to limit the Primary 1 (P1) intake to 75 pupils a year from August 2024.
Should the school be oversubscribed, we will apply our admissions policy which gives priority to pupils who already have sisters and brothers in the school and then pupils who, for medical reasons would have difficulty being educated elsewhere.
If, after applying this criteria, the school is still oversubscribed, then we move on to a ballot process.
P1 registration takes place in November and the ballot process for places would take place in January 2024.
Pupils who do not get a place at the school will go to Bishopton Primary School as the nearest alternative school.
A new primary school for 800 pupils in Dargavel has been agreed and work is progressing to secure a site and progress these plans.
---
Land for a new additional primary school and community facilities has been agreed between BAE Systems and Renfrewshire Council.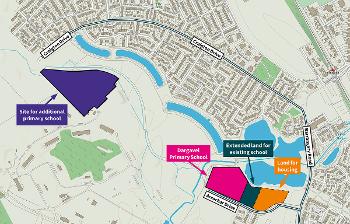 Map showing school sites
It includes a 8.5-acre site at the north end of Craigton Drive for the new school and 1.5-acres of land next to the current primary school.
The new school will be for 800 pupils and will include an artificial sports pitch for community use outside school hours.
Land beside the current school will provide more play and social space and allowing for potential future expansion if needed.
We are moving forward immediately with the work needed to deliver the new school. BAE Systems will get the land ready for construction.
We estimate the new school will be ready to welcome pupils for the start of the school year in August 2027, but are looking at all options to bring that timescale forward if we can.
---
We are keeping parents and carers updated on progress to address school capacity in the Dargavel area through text messages.
You can read these updates here:
---
Anyone interested in our work to address education capacity can sign-up for our free Dargavel community email newsletter.
---
If you have questions about general school matters, you can email or phone the school by using the contact details below.
Dargavel Primary School
Children's Services