Active travel to school
We encourage our young people to get to school each day through active travel - be it by walking, wheeling or cycling - and we want to make sure schools are as safe as possible for them at drop-off and pick-up time.
Therefore, using Spaces for People funding, we have introduced a new road layout at Newmains Primary in Renfrew to improve safety and encourage active travel.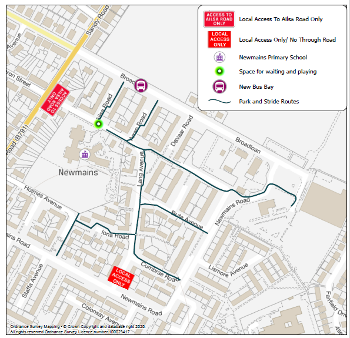 Lang Avenue is no longer a through road, the school bus now arrives on Broadloan and the children are escorted to the school gates, and parents and carers are encouraged to walk, wheel or cycle to school - or at least the last part of the journey by parking away from the school gates.
There has been a fantastic uptake so far and the school were recently top of the table in Living Streets' Walk of Fame - having the most active travel journeys for a school of their size in Scotland.
We are working with the head teacher, parent councils and pupils themselves to ensure these and any future measures benefit their school community.
If you have any comments, please let us know via Spaces for People.