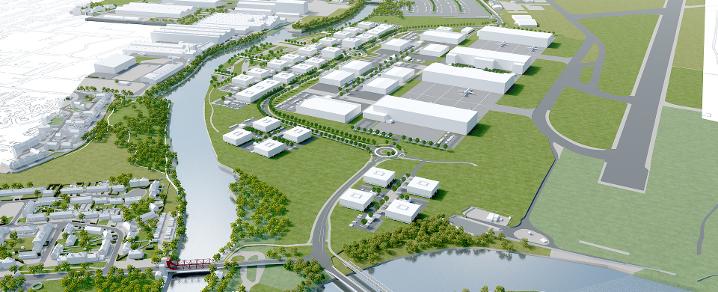 Glasgow Airport Investment Area
The Glasgow Airport Investment Area has the potential to become a powerhouse of economic growth for Renfrewshire and the Glasgow City Region; being close to the M8, and to key commercial sites with significant economic growth potential such as the Airport, Westway and Inchinnan Business Parks, Paisley and Renfrew town centres.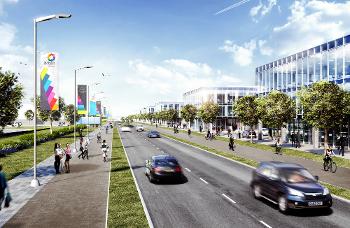 To realise that potential, this £39.1million project will deliver the realignment of Abbotsinch Road, a new bridge across the White Cart and new pedestrian and cycle routes improving connections between the Westway, Inchinnan and Airport Business Parks and as an enabler for the delivery of an internationally recognised district for innovation, research and manufacturing centered around the airport.
As well as enabling the continued growth and expansion of the Airport and surrounding businesses, this investment in infrastructure will help to make Renfrewshire a more attractive, vibrant and sustainable place to live and work by better connecting communities and businesses; resulting in more employment opportunities for residents in Renfrewshire and the wider City Region.
Extensive engagement at each stage of the project allowed the input of local people to guide the development of the project. This has also demonstrated strong public support for the project, with the latest feedback surveys showing 94 per cent of respondents are behind the Glasgow Airport Investment Area project.
Investment Area flythrough
---
GAIA Construction Updates
Wills Bros Civil Engineering Limited were appointed as the main contractor for the design and construction of the Glasgow Airport Investment Area (GAIA) project and work on site commenced in June 2019. Below are the latest updates on construction of the Glasgow Airport Investment Area infrastructure, including advance notice of any traffic management measures.
Latest updates
November 2020
Overnight road closures will take place in November as the Black Cart pedestrian and cycle bridge is installed. See full details of the road closures.
October 2020
See how Scotland's home for manufacturing is taking shape in Renfrewshire.
October 2020
Phase one of traffic management works have been completed at the junction of Inchinnan Road, Greenock Road and Abbotsinch Road. See the Traffic Management update for details of a second phase, from Friday 16 October 2020.
August 2020
Traffic management works are scheduled at the A8 junction of Inchinnan Road, Greenock Road and Abbotsinch Road to enable road realignment and prepare for installation of the Black Cart pedestrian and cycle bridge.
December 2019
Wills Bros Civil Engineering has issued the first GAIA newsletter which provides an update on progress of construction works on the project.
October 2019
Lane closures are planned on Abbotsinch Road to allow for essential gas works. The works, which will include temporary traffic lights, will be in place between Sanderling Road and Gama Aviation, from Saturday 2 November to Friday 13 December. We apologise for any inconvenience and please allow for longer journey times at peak periods. For further information on current and planned road closures, visit the roadworks and closures page of the website.
July 2019
Construction commenced, including establishing the site offices and construction compound. See introductory letter from Wills Bros Civil Engineering in related document section of this page.
Contact Details
Should you have any queries or concerns relating to any of the works being undertaken by Wills Bros, please contact them directly via the following communication channels:
Email info@gaiaproject.co.uk or call the 24-hr telephone number: 07464910226
You can also contact Renfrewshire Council's City Deal team in relation to the GAIA Project or any of Renfrewshire's other City Deal projects by emailing citydeal@renfrewshire.gov.uk.
For the latest updates on all of Renfrewshire's City Deal projects see the Latest News page.
---
Keep Me Posted
Subscribe to our City Deal mailing list to receive email updates on Renfrewshire's Glasgow City Region City Deal projects.