Celebrating Renfrewshire Fund
The Celebrating Renfrewshire Fund - by young people, for young people - gives you, as a young person, a voice in your community and lets you decide how to make living as a young person in Renfrewshire better.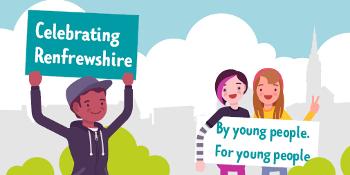 £150,000 is available for young people, or groups who work with them to apply for - and it's young people who choose the successful projects.
What stage is the fund at?
Who can vote?
How do I vote?
When will the winners be announced?

Priorities of the fund
What were the rules for applications?
Voting is now open and will run until 30 October.
Young people aged 12-25 can vote for their favourite projects in their Local Partnership area.
Community groups can apply for voting packs to provide young people in their group with a temporary number to cast their vote. You must state your organisation name and Local Partnership area to which you have applied, and tell us how many young people you require numbers for when you email.
These can be applied for here: Voting packs.
You should read about all the applications in your area and choose your favourites here - Celebrating Renfrewshire Fund.
Then, you should cast your vote via the Young Scot website here - Voting - Celebrating Renfrewshire Fund.
School pupils should check their school email account and follow the instructions on how to vote.
The votes will be counted and verified and winners announced in early November.
Please follow this section of the website and also our social media channels - Facebook and Twitter - for the latest update on when the winners will be announced.
Age - Anyone aged 12-25 could apply
Maximum grant award - £2,000
Applications could be sent to a maximum of 3 Local Partnerships
Individual young people could apply but would need a constituted group to act as their guarantor.
Schools in partnership with their Parent Councils could apply - if projects benefit the wider local partnership area and not just the school itself.
Constituted groups and organisations that provide services to young people aged between 12-25 in Renfrewshire could apply.
Applications must match one of the priorities set out by our young people below.
Through youth participatory budgeting, young people from Renfrewshire Youth Voice have come together to set out what the £150,000 fund should be spent on and how it will benefit their fellow young people in Renfrewshire. Youth Involvement & Participation
Removes barriers for young people to participate.
Sport & Physical Activity
Sport is more accessible and appealing.
Promoting positive mental health & wellbeing
Removes stigma and is positive about mental health and wellbeing
Involves young people and their families when dealing with poor mental health
Encourage open discussions regarding young people's mental health
Employability & Youth Development
Develops life skills for employment, budgeting and leading an independent life
Builds confidence, communication and social skills within young people
New projects in response to Covid-19
Helps young people recover from the impact of the pandemic