Spend Local
Renfrewshire is home to many fantastic businesses - of all sizes and kinds...and we can all support them by Spending Local.
Local businesses need support, now more than ever.
So we're encouraging everyone to Spend Local - to do your bit to support your favourite businesses on your doorstep.
Around 65p from every pound spent locally, stays local - so by picking up that coffee, stopping off for lunch or buying that gift, you can do your bit to support the local community and its businesses.
---
Where can I get more info?
Here are some handy links to help you find out more about what is on offer in Renfrewshire - and hopefully it will help you to Spend Local:
- Renfrewshire Chamber of Commerce are the leading business membership organisation in the area and represent a wide variety of firms, big and small, from all areas and of all types. You can see who's in their member directory.
- Paisley town centre's business improvement district Paisley First have a Business Directory on their website which lists what the town has to offer - split by Shopping, Professional Services, Health Hair & Beauty, and Eating Out, Bars & Social
---
Reasons to Spend Local....
Joe from White Cart Company on Paisley's High Street gives his reasons why you should spend local:
And here's why Colette Cardosi, chair of Paisley First, is backing the campaign:
She says: "Research on spending by local authorities does indeed show more money spent locally stays in the local economy. It is also an ethical choice. When you shop at local butchers, bakers, and greengrocers or farmers' market, the produce likely had a short field-to-fork journey, reducing carbon footprint.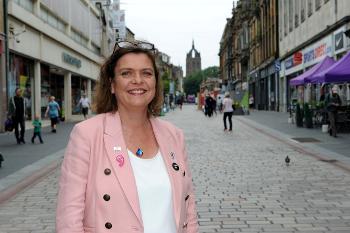 "Independent shops often stock locally-made items not available elsewhere - and along with artisan markets support entrepreneurs and foster the talents of the next generation.
"Shopping locally also helps build communities. Bookshops, cafes and craft shops drum up custom by hosting book groups, knitting clubs, children's events and more. If businesses are not supported, local groups tend to disappear.
"Most importantly, the only way a town centre can thrive is with the community, business owners and council united and working together. Coming into your town centre to spend locally increases engagement with each other - and participating in the different events, visiting our beautiful buildings and embracing our rich heritage ultimately help us collectively regenerate the area and make it prosper once again."