Freedom of Renfrewshire
Individuals and organisations who have been awarded the Honorary Freedom of Renfrewshire title include:
John Byrne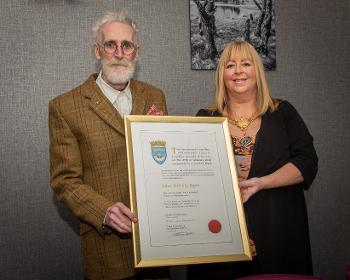 John Byrne was born in Ferguslie Park in Paisley in 1940 and is best known for writing The Slab Boys Trilogy - a set of plays telling the story of young-working class Scots in Paisley and inspired by his own experiences working in Stoddard's Carpet Factory in Elderslie.
Alongside being an accomplished writer of stage and screen, John Byrne is known for his distinctive painting style and continues to paint and exhibit new work regularly.
When Paisley Town Hall reopens in 2023 after a £22m refurbishment, new and existing rooms will carry names inspired by John's play Cuttin' a Rug, set in the town hall.
---
102 Field Squadron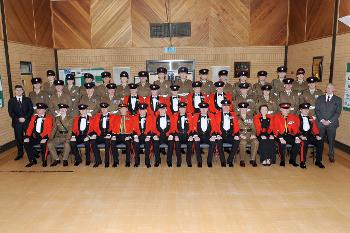 The Squadron are a support arm to the Armed Forces both at home and abroad and have been a valuable resource for the Renfrewshire community.
During the extreme flooding in Paisley in 1994, they helped rescue residents from their homes, provided sandbags to safeguard buildings and assisted the emergency services where possible.
They have also provided reserves to operations abroad in Iraq, Afghanistan and Cyprus to assist the regular Armed Forces.
---
Corinne Hutton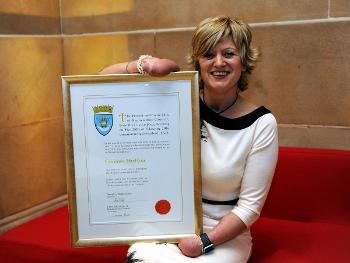 Corinne has been honoured for her charity work which has continued despite a life-changing illness in 2013. Having suffered acute pneumonia and septicaemia, surgeons were forced to amputate her hands and legs below the knee.
Corinne responded by establishing a charity, Finding Your Feet, which offers practical, emotional and financial support to individuals and families who have suffered limb loss or life-changing physical trauma.
Her courage and determination has helped her raise over £200,000 achieved through the likes of completing a gruelling 5km assault course, becoming the first quadruple amputee in history to climb Ben Nevis, and a record-breaking 140ft abseil.
---
Tony Lawler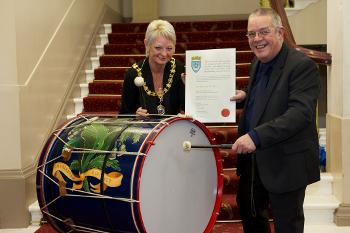 Tony Lawler, who is best known for his contribution to Sma' Shot Day as the Charleston Drummer, was granted the Freedom of Renfrewshire on 29 November 2012. Tony has led the people of Paisley in the Sma' Shot procession for over 20 years.
Throughout his professional and personal life, Tony has worked closely with the community. Tony volunteers at the South End Action Centre supporting community groups and at the Paisley Development Trust as the treasurer and supporting events such as the commemorate the Glen Cinema disaster, marking the 60th anniversary of the end of WWII, replacing the horseshoe at Maxwellton Cross and promoting the Renfrewshire Witch Hunt society.
---
Argyll and Sutherland Highlanders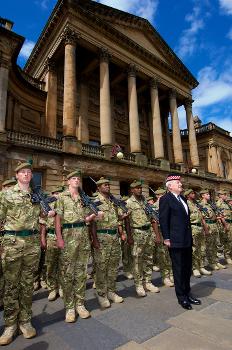 The Argyll and Sutherland Highlanders, 5th Battalion, the Royal Regiment of Scotland, were granted the Freedom of Renfrewshire on 20 June 2011.
To mark the occasion, the Argyll and Sutherland Highlanders held a parade which began at County Square and proceeded through; Gilmour Street, High Street, New Street, Orchard Street, Bridge Street and then Abbey Close where the signing and formal presentation took place.
Historically, many of Renfrewshire's residents joined the regiment, both in times of national crisis and in times of peace.
---
Sandy Stoddart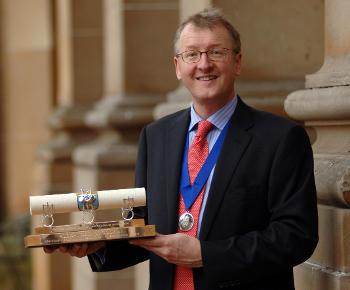 Alexander "Sandy" Stoddart, born in 1959, is a prominent Scottish sculptor who, since 2008, has been Her Majesty's Sculptor in Ordinary in Scotland. Stoddart was born in Edinburgh, but grew up in Elderslie, where he continues to live and work.
In 2009, Stoddart was made an Honorary Freeman of Renfrewshire in recognition of his contribution to the arts, in particular sculpture.
Stoddart is best known for his civic monuments, including 10 feet (3.0m) bronze statues of David Hume and Adam Smith, philosophers during the Scottish enlightenment, which are displayed on the Royal Mile in Edinburgh, and of James Clerk Maxwell and John Witherspoon.