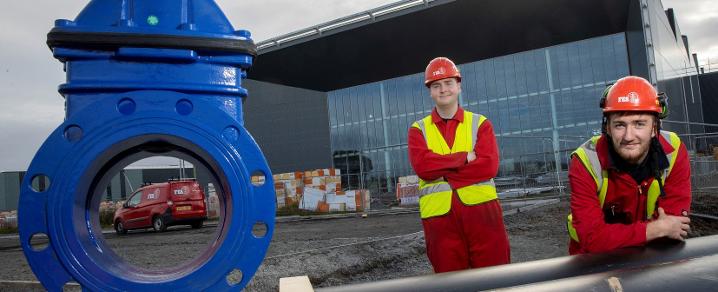 District Heating Network
We are building a district heating network at the Advanced Manufacturing Innovation District Scotland (AMIDS).
This state-of-the-art, low carbon heating network will supply heat and hot water 90% greener than a gas boiler to facilities at Scotland's home for manufacturing innovation.
In the first of its kind in Scotland, the fifth-generation, renewable energy network will convert treated water into low temperature heat, which is then boosted using low carbon technology to provide heating and hot water to facilities at AMIDS including the National Manufacturing Institute Scotland (NMIS) and the Medicines Manufacturing Innovation Centre.
It's a £7.1million project, funded by Renfrewshire Council and by the Scottish Government Low Carbon Infrastructure Transition Programme. FES Energy are currently completing the network build, which includes a new energy centre at a Scottish Water site in Paisley and 3.7kilometres of underground pipes.
---
How does it work?
Treated water, previously flowing into the White Cart river, is directed into a new energy centre at the Scottish Water Laighpark site in Paisley.
Ambient heat is extracted and channelled through a loop of underground uninsulated pipes into the nearby AMIDS district.
Heat pumps at each building will upgrade this heat to suitable levels for heating and hot water.
---
Why it's important
Having a low carbon renewable energy system supports our pledge for Renfrewshire to be carbon neutral by 2030
Delivering green solutions and new technology to power our future is a key focus of the manufacturing innovation district.
Building this network, the first of its kind in Scotland, will inspire other developments to consider this low carbon technology.
We are developing a world-class campus at AMIDS which positions Scotland as a global leader in high-value manufacturing and offers an attractive environment for advanced manufacturers to locate to.
The network provides a cost-effective route to low carbon heating and funds its own running and maintenance, future-proofed to supply new developments at AMIDS and potentially extend more widely.
---
When will it be ready?
Work on the new AMIDS District Heating Network began in October 2021 and is expected to be completed in Autumn 2022.
If you're interested to know more, or you're a business in the surrounding area interested in connecting to the district heating network, email our team at citydeal@renfrewshire.gov.uk.