Business Continuity Week - Civil contingency
Charlotte McCallum discusses work and personal resilience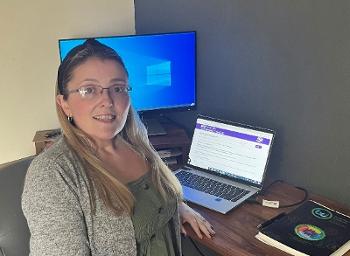 Charlotte McCallum, civil contingencies officer "If an emergency happened tomorrow, and it meant days without power or not being able to leave home, would you be prepared? I don't think most people would right now", says Charlotte McCallum who works as an officer in our Civil Contingencies Service.
She works with colleagues to ensure that Renfrewshire is ready to react to emergencies, whether that is the council still being able to run its lifeline services or staff and community members being prepared to deal with an extended period of disruption.
"As an organisation, the council has plans in place to minimise disruption to our critical services, with each service asked to complete and maintain a business continuity plan looking at various risk scenarios and detailing back up plans for when things go wrong.
"Our Civil Contingencies team can provide advice on best practice for your business continuity plans and can help test and exercise your readiness for an incident, which could be invaluable if the real thing were to take place.
"Our team also runs various training courses throughout the year, including council incident officer training and rest centre manager training, to give staff the skills and knowledge they need to manage an incident.
"So, if this is something that you feel would benefit you or your team then feel free to get in touch to discuss how our team can support you."
As a Category 1 responder, just like the emergency services, the council has a duty to be prepared - but so do you as a staff member.
Firstly, you need to ensure that you and your family would be safe if an emergency happens and that means having the appropriate supplies to last you an extended period of time.
You should aim to keep a range of supplies that can meet essential household needs for at least three days, which could include:
Radio and torch (with spare batteries)
Candles and matches
First aid kit
Details of local radio station frequencies
Bottled water and long life, ready-to-eat food with a tin opener (and pet food)
Spare glasses or contact lenses
Toiletries and prescription medicine (including for pets)
Wellingtons and waterproof clothing
You should also prepare a 'grab bag' in case you need to evacuate. This may be required at short notice, so the bag should be kept in an easily accessible place and contain things like:
Medication
Glasses or contact lenses
Essentials, including house and car keys, cash or payment cards and any other important documents
A change of clothing, footwear and sleeping attire
Washing, shaving and sanitary supplies
Any special items for babies, children, elderly and disabled people
Mobile phone and charger
Supply of appropriate food/water, and bottle/can openers
Once this is in place, you should also consider how you can carry out your role for the council during an emergency should it be required. Charlotte explains: "If you're in a critical service that provides life and limb services, you should know what your role is in an emergency, and you should be ready to self-activate. If you don't know what you'd do, then speak to your line manager as soon as possible.
"We know how important the council is to many of our residents, especially those who are vulnerable or unwell, so it is important that we can still provide them no matter the situation.
"It's easy to think emergencies will never happen, until they do, so don't wait to get prepared. Put plans in place now that will make responding easy and instinctive should the worst happen."
Running from 15 to 19 May, Business Continuity Week 2023 highlights various areas of resilience that people, staff and businesses need to be prepared for including cyber, organisational, supply chain and personal.
It aims to ensure people have the knowledge to prepare in advance, but also know how to respond in case an incident happens.
For more information on how to prepare for an emergency, visit our Prepare for emergencies webpage and be #RenReady for all eventualities.
ublished on Thursday 18 June 2023