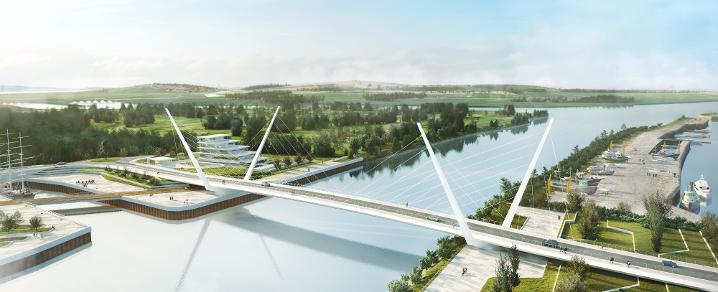 Clyde Waterfront and Renfrew Riverside
The Clyde Waterfront & Renfrew Riverside project aims to regenerate the Clyde Waterfront as an attractive riverside and urban area that supports existing and promotes new residential, industrial, commercial, business, retail and leisure opportunities.
The proposals include the construction of a new opening bridge across the River Clyde, which will accommodate vehicles, pedestrians and cyclists, and the construction of the Renfrew North Development Road to better link communities and businesses on both sides of the river.
This will increase the potential for business growth, for businesses on both sides of the river, as they gain access to increased numbers of customers and suppliers throughout Renfrewshire, Clydebank, Glasgow and the wider Glasgow City Region.
To help realise that potential, the £90.7m Clyde Waterfront & Renfrew Riverside project will deliver the infrastructure and environmental improvements with the objective of facilitating:
The regeneration of the waterfront as an attractive, vibrant and sustainable urban area by improving access to key development sites, providing new housing, business and employment opportunities

Improved access for communities north & south of the Clyde to key residential, employment, healthcare, education, leisure and retail sites for all modes of transport, including improved opportunities for leisure and active travel alongside and across the Clyde

Enhanced local environment through the use of high quality landscaping to encourage high quality development and regeneration

Optimised operation of the local road network, resulting in improved journey time reliability and safety

Improved access to and enhance local greenspace This investment in infrastructure will help to create a more attractive, vibrant and sustainable place to live and work by better connecting communities
Extensive engagement at each stage of the project allowed the input of local people to guide the development of the project. This has also demonstrated strong public support for the project, with the latest feedback surveys showing 90 per cent of respondents are behind the Clyde Waterfront and Renfrew Riverside project.
See our 'Public Exhibition' articles for further details including the information displayed at these events which included the following video showing how the new infrastructure and potential future developments could look.
Work on this project is expected to start on site in 2020 and be complete by the end of 2022.
---
Latest News
Scottish Government ministers granted planning consent on Friday 16 November 2018 for the Clyde Waterfront and Renfrew Riverside (CWRR) project. The tendering for the construction contract is underway and land assembly will now be completed. Construction is expected to start in 2020 and be complete by the end of 2022.
For the latest update on Renfrewshire's City Deal projects see the Latest News page.
---
Keep Me Posted
Subscribe to our City Deal mailing list to receive email updates on Renfrewshire's Glasgow City Region City Deal projects.