Get the latest staff news online
Catch up on the latest info, news, stories, and blogs, anywhere, any time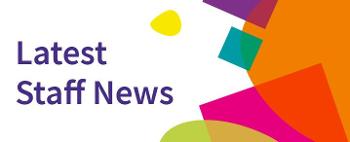 'Staff info' is the place to go for the latest council updates, news, stories, views and employee information online.
It's accessible at any time, from any device and should be your first port of call, whether you are looking to buy additional annual leave or check out the latest employee benefits and discounts.
If you've been on leave or had some time-off, it's where to go to check out what you've missed and get up to speed with all the latest news and developments.
From the landing page you can explore all the newest content. You'll see:
Latest news - News, events and updates for colleagues across the Council
Staff Stories - Stories, messages and blogs from colleagues across the council
Taking care of our employees' wellbeing - Things you can do, plus help and support to look after your mental, physical and financial wellbeing
Working at the council - New ways of working, annual leave, salary scales, systems and user guides
Please bookmark the 'Staff info' landing page on your council/personal phone, PC or laptop and visit it regularly for the latest news and updates about working here at Renfrewshire council.
Visit 'Staff info' at www.renfrewshire.gov.uk/staff
Published Wednesday 17 August 2022