Purple Flag
The highly coveted Purple Flag has been awarded to Paisley in recognition of the high standards supporting the management of Paisley's evening and night time economy (ENTE).
The award is presented by the Association of Town Centre Management (ATCM), a European organisation dedicated to ensuring sure town centres reach their full potential.
The award was accredited to Paisley First, who represent Paisley's Business Improvement District (BID).
The core themes; Wellbeing, Movement, Appeal and Place are all considered. These have allowed Paisley to shine in areas such as the care being offered after hours by Wardens, the Police, and Street Pastors, our exciting events programme, our stunning architecture and the pride we have in "oor wee toon".
What is Purple Flag?
Purple Flag's aims are to raise the standard and broaden the appeal of town centres at night.
Purple Flag is the benchmark for good night time destinations. You can find a map of these destinations in the Related Links section of this page. Town centres that achieve a Purple Flag will be those that are safe, vibrant, appealing, well-managed and offer a positive experience to consumers.
Purple Flag is the international accreditation scheme and "gold standard" for town centres in the evening and at night. Places that reach the standards can fly the flag, to the benefit of their image, local perceptions and their local economies
Purple Flag is tried and tested. It has a solid track record of success. Most flag holders choose to stay with the programme in order to continue to experience the advantages it offers
Purple Flag enjoys the support of government, industry, key national interests and local communities.
Purple Flag is the only UK scheme focused on the ENTE that sees it in the round; both the negative impacts that need to be addressed and the potential for economic growth, increased conviviality and community enhancement.
Purple Flag is intended to be practical and supportive which shows the standards and methodology to help in drawing the partners together, in establishing a baseline, taking stock of performance on the ground and developing a strategy for the future.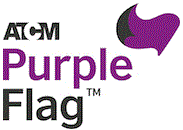 Purple Flag logo