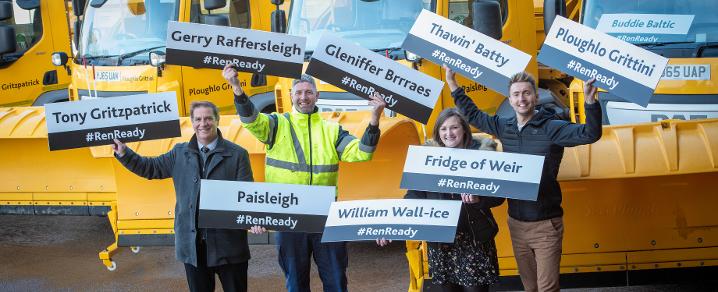 #NameOurGritters
This fun, quirky competition gave the public the opportunity to name Renfrewshire's nine gritters after its local heroes, places and landmarks.
It aimed to celebrate our gritter drivers, carers, housing repairs and community meals teams to name just a few of the heroes who keep services operating and ensure people are cared for even in the most difficult of conditions.
A suggestion period took place inviting the community to put forward their names as long as they had a Renfrewshire twist (i.e. no Gritty McGritface!)
More than 1600 suggestions were submitted and these were then whittled down to a shortlist by our judging panel, which included a gritter driver, Care at Home worker, community resilience volunteer, STV weatherman Sean Batty, Director of Environment and Infrastructure, Gordon McNeil, Councillor Cathy McEwan and Councillor Natalie Don.
A series of Twitter polls were held to decide the nine winners and more than 8000 votes were cast by the public.
The winners were:
Ploughlo Grittini
Thawin' Batty
Tony Gritzpatrick
William Wall-ice
Gerry Raffersleigh
Fridge of Weir
Gleniffer Brrraes
Buddie Baltic
Paisleigh
The competition was part of the annual #RenReady campaign which aims to ensure Renfrewshire, and its local community, are fully prepared for winter weather.
For advice and guidance on how to stay safe this winter, visit our Ready for Winter pages.