Focus on: Littering and Fly tipping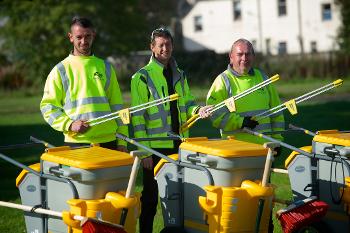 One of the biggest causes of our streets being unclean is littering and fly tipping.
As the Council, we are forced to collect tonnes of litter each year from our streets, which takes our teams away from other tasks to improve our environment as they need to clear what has been dumped.
If we #TeamUptoCleanUp then we can ensure our streets are cleaner, brighter and a more attractive place for people to live, work or visit in.
---
Littering
We are responsible for keeping roads, pavements, parks and other open space areas litter free.
We've employed additional litter pickers who work on a four-on, four-off shift basis and are assigned to a specific area of Renfrewshire.
They tackle any litter issues and also look to undertake additional tidying and cleaning when possible.
Renfrew, Paisley and Johnstone town centres are litter picked on a daily basis in addition to this further investment.
We also have our wardens and response teams patrolling Renfrewshire every day to clear our streets and try to ensure they are as litter free as possible.
But we need you to help us.
If everyone uses the public bins provided or keeps litter with them until they reach a bin, then Renfrewshire will be a cleaner place to live, work and visit.
Tonnes of litter is dropped across Renfrewshire each year, so if we can 'Team Up to Clean Up' to stop this happening then our communities will see the benefit.
If you think you can help and you've got the time to volunteer, visit our Community Clean Up page and let's work together to make Renfrewshire a better place.
---
Fly tipping
There's always an alternative to fly tipping.
Fly tipping damages the environment, ass well as leaving an unsightly mess for the community.
If caught, you could face a Fixed Penalty Notice of £200 or if taken to court a fine of up to £40,000 or imprisonment.
If you see someone fly tipping or discover dumped wasted, report it to us or call 0300 300 0300.
You can also report it to the via 0300 777 2292.
Or report a 'dumper' on the Dumb Dumpers website.
---
Report an abandoned trolley
Download the TrolleyWise app to report trolleys from Sainsburys, Morrisons, Iceland, B&Q, Home Bargains, Tesco, Lidl, Marks & Spencer, and Ikea - and they will come an
Asda use the Collex app to collect their trolleys so please use this to report trolleys from there and they can also be reported on 08000 933 350.
---
Getting rid of your own waste
If you can't remove your own waste yourself, you can arrange a special uplift by the council to collect domestic waste, garden waste, and white goods - you can also do this by calling 0300 300 0300.